Back to All Classifieds
Showing ads in Yard Sales:
An aid to planning your Yard Sale or Event. See 10-day Weather Outlook @ Weather.com
---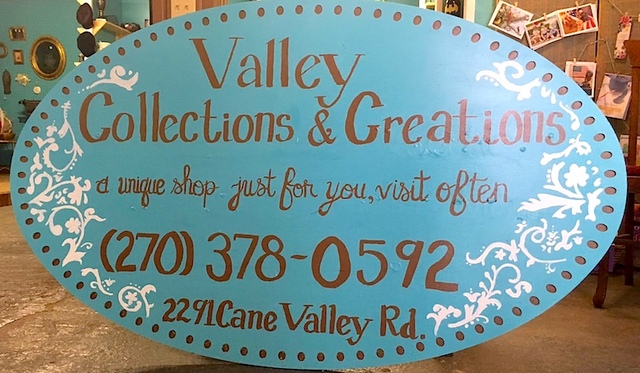 VALLEY COLLECTIONS & CREATIONS
2291 Cane Valley Road
Cane Valley, Adair County, KY
Valeria Bault owner.
OPEN Tue-Wed-Thu & Fri, 10am-5pmCT, and Sat 10am-3pmCT.

Offering a collection of old & new, handmade & handcrafted, vintage & unique items, special and just for you.

Booth rentals are available on monthly rentals in $30, $40, or $50 size. Valley Collections buys, sells, and takes consignments. Make Valley Antiques a regular stop when you are YardSaling, daytripping, antiquing, or looking for clever crafts - and be sure to make us a part of your yard sales routes. Our inventory is continuously changing! Book your next Jewelry, Marketing, Housewares, and other parties, for up to 15-20 people. Call us at 270-378-0592. - - Valeria Bault, owner.
---
Annual neighborhood yard/garage sale Sept 3: Our annual neighborhood yard / garage sale will be Saturday September 3, 2016 (rain or shine) starting at 7amCT. It will at 151 Pear Tree Ln. through 260 Peach Tree Ln., Columbia, KY. Some of the items that will be offered include an air compressor, tools, furniture, pool ladder, men women children and baby clothing, toys, wood shop supplies a band saw, exercise stationary bike, tractor and farm equipment, household items. Something for everyone. Come early before it's all gone. --Patricia
---
Community of Vester Road Yard Sale, Sat 03 Sep 2016 - Adair County, KY - On Saturday, September 3, 2016, the Community of Vester Road will be having a yard sale. The road is 2 miles in length, stretching from Vester to Bull Run Road, and there will be sales the entire 2 miles. There will be something for everyone. Will post more when nearing the date of sale. Keep this date in mind as you plan your Labor day week end. Vester Road, is 5 miles up 206 or Liberty Road, or can be accessed from Bull Run Road near KY 551. - Jo Ann Curry
---
Yard sale - Adair County - at the office of Elizabeth Lodge, 50 Elizabeth Court, Columbia, KY, off Green Hills Road. 7amCT-???, Saturday, September 3, 2016. Women's clothes, toys,shoes, lots of women's jeans, purses, and home decor, and lots more - Peggy tarter
---
Yard Sale - Adair County - Friday and Saturday, August 26 and 27, 2016 at 55 Kelleyville Road, Columbia, KY in the Coburg Community of Adair County. Signs will be posted. Household items, tools and mens and womens clothing. Many miscellaneous items. - Lisa Burton
---
Have something to list in Yard Sales?
Send us YOUR Classified