Back to All Classifieds
Showing ads in Yard Sales: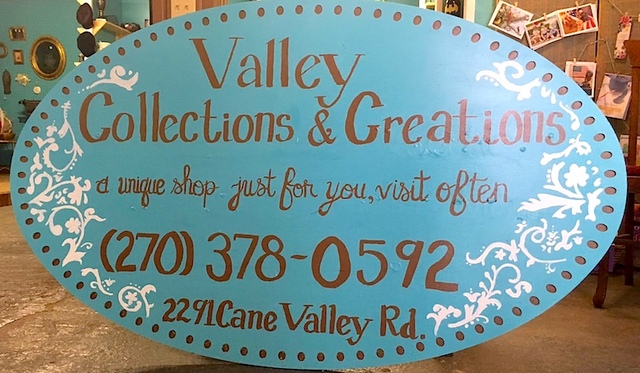 VALLEY COLLECTIONS & CREATIONS
2291 Cane Valley Road
Cane Valley, Adair County, KY
Valeria Bault owner.
OPEN Thu & Fri, 10am-4pmCT, and Sat 10am-3pmCT.

Offering a collection of old & new, handmade & handcrafted, vintage & antique items, special and just for you.

Booth rentals are available on monthly rentals in $30, $40, or $50 size. Valley Collections buys, sells, and takes consignments. Make Valley Antiques a regular stop when you are daytripping, antiquing, or just out and about looking for for clever crafts - and be sure to make us a part of your yard sales routines. You never know what we will have available for your shopping pleasure. Visit often. Call us at 270-378-0592. - - Valeria Bault, owner.
---
Garage Sale: - Adair County - Friday & Saturday, June 2 & 3, 2017, starting at 8amCT, at 5162 Pelham Branch Road. (5 miles out), Columbia, KY. Selling 1965 Chevy truck, tools, George Washington lamps, McCoy cookie jars, set of dishes, area rugs, framed pictures, drama DVD's, glassware, old liquor decanters, ladies XL clothes, shoes, scarves, mens large tall shirts, twin metal bed frame, costume jewelry, leftover fabric, small flower pots, plant stand, TV and lots of miscellaneous. - PAM SHEARER
---
400 Mile Yard Sale on US 68 is 1-2-3-4 June 2017 Route passes through the center of it all - Edmonton, Greensburg, and Campbellsville - and, in alphabetical order, Auburn, Aurora, Benton, Blue Lick State Park, Bowling Green, Cadiz,(Campbellsville), Draffenville,(Edmonton), Elkton, Fairview, Glasgow, Harrodsburg, Hazel, Hopkinsville, Lebanon, May's Lick, Maysvile, Millerburg, Murray, Nicholasville, Paris, KY & Paris TN; Perryville, Pleasant Hill, Russellville, Sharpe, Smith's Grove, Washington, Wilmore, and WISDOM (home of the KY Headhunters.
---
HUGE MEMORIAL DAY SALE at 4 SEASONS CONSIGNMENT & MINI-MALL
324 Public Square, Columbia, KY. this weekend. Most Vendors are offering at least 10% off & one Vendor has a 50% off sale in progress. Our clothing is on sale 50% off & the upstairs clearance room is reduced even more. You don't want to miss this one time opportunity to stock up on clothing, home decor, furniture and housewares!!! Open today, Friday, until 5pmCT, Saturday until 4pmCT & Memorial Day 10am-4pmCT. - Phyllis Gooden
---
Have something to list in Yard Sales?
Send us YOUR Classified