Back to All Classifieds
Showing ads in Announcements:
The Winding Creek Studio Band
would love to liven up your public or private event, party, restaurant, wedding or whatever. Pro group with great repertoire and references. Rock and Roll from 50's to today. Check us out on FB. Call 270.343.4937 for booking. - Dennis Gosser
---
Gradyville Baptist will hold community fish fry, Saturday, Aug. 10, 2013
A community fish fry will be held at Gradyville Baptist Church, 159 Old Gradyville Church Road, Columbia, KY on Saturday, August 02, 2013. Children's activities will begin at 2pmCT with games, bouncy house, face painting, etc. Food, fish and all the fixings, will be served 4pmCT-6pmCT. Singing will start at 6pmCT with the Payne Family Singers. There will be no charge for this event, but donations will be accepted. Contact by phone 270-299-6563 or 270-250-5222 or email gradyvillebaptistchurch@hotmail.com. - MIKE BENNETT (Sponsored)
---

BAVFD Pancake & Sausage Breakfast
6:30amCT-9:30amCT - - Saturday, August 2, 2014 . (Donations Appreciated)

Breeding Area Volunteer Fire Dept.
290 Fire Dept. Lane in Breeding, KY.
- Sponsored Ad
---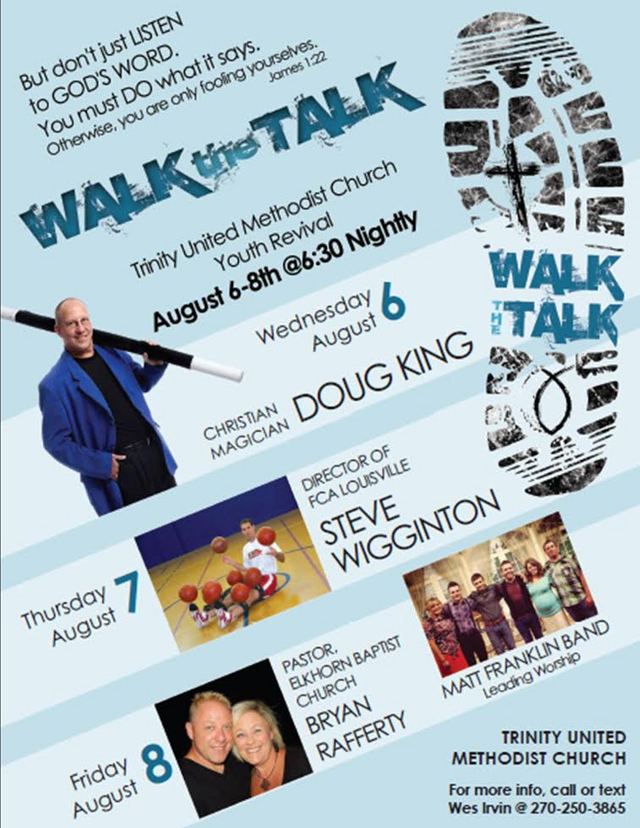 But don't just LISTEN to GOD'S WORD. You must DO what it says. Otherwise you are only fooling yourselves.James 1:22
WALK THE TALK
Trinity United Methodist Church Youth Revival.
August 6-8th @ 6:30 nightly.
TRINITY UNITED METHODIST CHURCH.
For more info, call or text Wes Irvin @270-25003865
Click for FULL REVIVAL SCHEDULE
---
Have something to list in Announcements?
Send us YOUR Classified