Mark Twain Shriners, Kosair present portable oxygen machine
By Jason Rector
Thursday, November 9, 2017 The Mark Twain Shrine Club and Kosair Charities partnered to present Laura Furkins, a student at Adair County High School, with an Inogene portable oxygen machine purchased through Community Health. Her classmates, teachers and Special Education Director for the school district joined alongside Laura for the surprise presentation.
Laura's mother, Louise, states that she is glad the Shriners helped in her daughter's situation because the current one was becoming problematic. Louise feels that Shriners is a wonderful organization that helps kids in need and encourages others to join their organization.
This story was posted on 2017-11-10 10:56:31.
Email
comments or corrections.
Laura Furkins receives portable oxygen machine from Shriners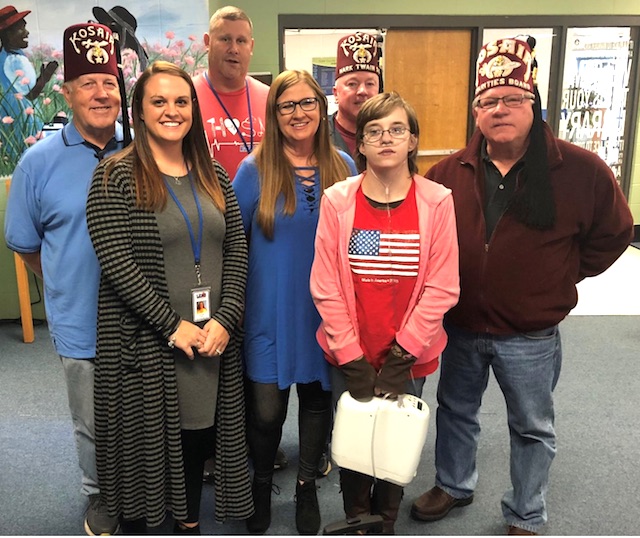 2017-11-10 - Adair County High School, 528 Indian Drive, Columbia, KY - Photo by Jason Rector, ACHS photo
Shriners present portable oxygen machine
-
Above, front row,
from left, Brooke Beard, Teacher; Anita Goode, District Special Education Director; Laura Furkins, Student receiving the donation and Robert Flowers, Shriner;
Back row
Paul Smith, Shriner; Richard Soule, Teacher and Joe Flowers, Shriner.
Comments
|
Permalink