Mitzi Bault: I'm a Proud Daughter of WWII Veteran with his story
There was one terrible episode when the Navy lost track of Peanut and all of Russell County watching for him, having been told he had deserted. Months later, after terrible anguish for his family, the Navy sent a letter, which the writer's grandparents Roy & Audrey McKinley, kept in their house until the early 2000s when it was discovered in cleaning out their home. The letter acknowledged the military's error, ending what must have seemed an eternity of anxiety for for the family of the young man from Russell Springs, KY, who was proud of his Naval service and was so dedicated to VFW Post 6097 in Columbia, KY, his adopted home.
---
Click on headline for complete story
By Mitzi McKinley Bault
I am a proud daughter of a WWII Veteran. Lucian Grant (Peanut) McKinley. As a teenager he went to Somerset with some friends and sighed up in the United States Navy.
As the story goes he gave them an age. No paper work with him. On his age he kind of stretched it.
As a young man from Russell Springs Ky, he entered the Navy.
He went through training and put on a ship to the South Pacific where he spent most of his service.
Guam was their base.
After Guam he was shipped to Kodiak Alaska. For years he laughed about not getting warm there. A big difference from Guam and Kodiak, Alaska.
One day Grandpa McKinley got a knock on their door in Russell Springs. It was official from the United States Navy looking for my Daddy. According to them he was declared a deserter from the Navy. My grandparents were in shock. The last word from him he was in California waiting to go to base in Kodiak Alaska.
For weeks the Navy waited a lot at the Bus Station in Russell Springs or Somerset, KY, waiting to see if Daddy would get off. All of Russell County was talking about it. My grandparents were worried sick.
This accompanying letter came to my Grandparents one day. The Navy were apologetic about the problem and worries they had given my Grandparents. My Daddy had been in Kodiak Alaska the whole time - where he was supposed to be. But for three months he did not receive pay because part of the United States Navy did not know where he was. And yes, he received it later.
This letter was kept by my grandparents until the house was cleaned out in early 2000.
It's in my hands now until I pass it on.
Proud daughter of a World War 11 Veteran and Granddaughter of Ruben Waggener, a Revolutionary War Veteran.
- Mitzi
This story was posted on 2017-11-10 09:12:48.
Email
comments or corrections.
My Dad - World War II Naval Vet L.G. (Peanut) McKinley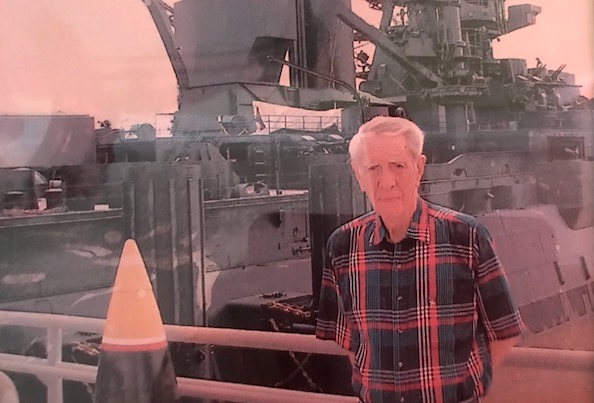 2017-11-10 - Texas - Photo by Mitchell McKinley; from the collection of Mitzi McKinley Bault
---
This photo was taken when Daddy was in Texas on a trip with his son Mitchell & daughter-in-law Donna, when Daddy was, I think, 79. -- MB
Comments
|
Permalink
The letter acknowledging the U.S. Navy's error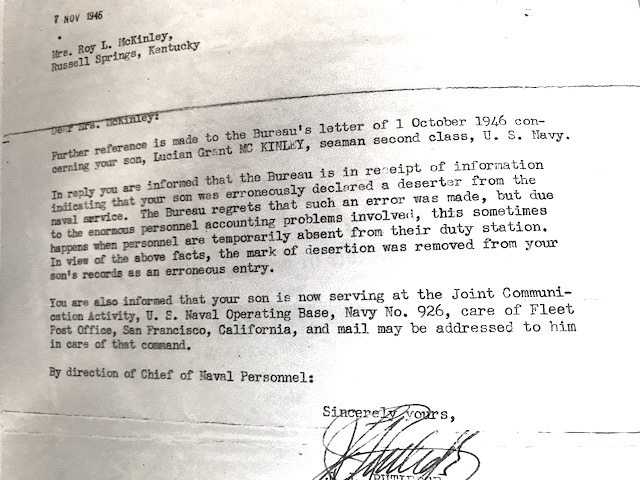 2017-11-10 - Russell Springs, KY - Photo from the collection of Mitzi Bault
---
Mitzi McKinley Bault found this letter after the year 2000. The date of the letter from the chief Naval Personnel, acknowledging an error which had caused her grandparents untold grief and anxiety, was dated after World War II was over, 7 Nov 1946.
- Mitzi McKinley Bault.
Comments
|
Permalink