Mister "P" hosted Thunder over Louisville party
Mister "P" Express hosted customers, friends and family for Thunder Over Louisville at the Galt House Saturday evening. The event has become a tradition as a way of saying thank you.
Company founder, Adair County native, Dr. Allan (Mister P) Parnell, believes in giving back, working and living by the Golden Rule. He credits the power of prayer and a company ethic of family values for the continued growth even through last year's pandemic.
Mister "P" Express, an award winning contract carrier and driving school with 48-state and Canadian authority, is headquartered on a 55 acre campus in the River Ridge industrial park, Jeffersonville, IN.
There are over 300 employees now, and immediate positions open for drivers as well as for students in the on-site CDL school.
"With a serious driver shortage in America," Mister P says, "our company is dedicated to helping men and women who want careers in this industry to have the opportunity."
That was the motivation for starting the Parnell Commercial Driving School which trains, tests and certifies future drivers.
Mister P's daughter, President and CEO Cynthia Collier, is credited with having led development of the loyal customer base and they both take great pride in her recruitment of the third generation - Rebecca Estes, Vice President of Sales and Marketing, and Bryan Carr, Vice President of Operations - to bridge the company values and mission into the future.
For information on the CDL school, or to apply for jobs, visit www.misterpexpress.com.
This story was posted on 2021-04-21 23:11:08.
Email
comments or corrections.
Lindsey Wilson group at Thunder Over Louisville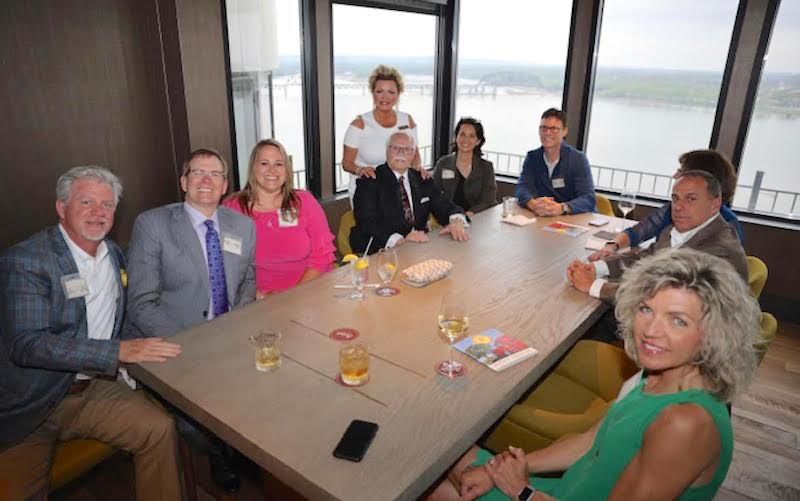 2021-04-22 - Louisville, KY - Photo by Allan Gipe
---
Dr. Allan (Mister P) Parnell, fourth from left, Chairman of the Lindsey Wilson College Board of Trustees, and his daughter Cynthia Collier, President and CEO of Mister "P" Express, were hosts of a special Thunder Over Louisville event at the Galt House Saturday, April 17, 2021. The gathering has become a corporate tradition as a way of saying thank you to customers, friends and family. Lindsey Wilson leaders joining them were, from the left around the table: Kevin Thompson, Brian and Melanie Shirley, Leighton and Amanda Main, Dave and Trish Parrish and Donna Beth Thompson.
Comments
|
Permalink