Brockmans are new owners of historic Foust property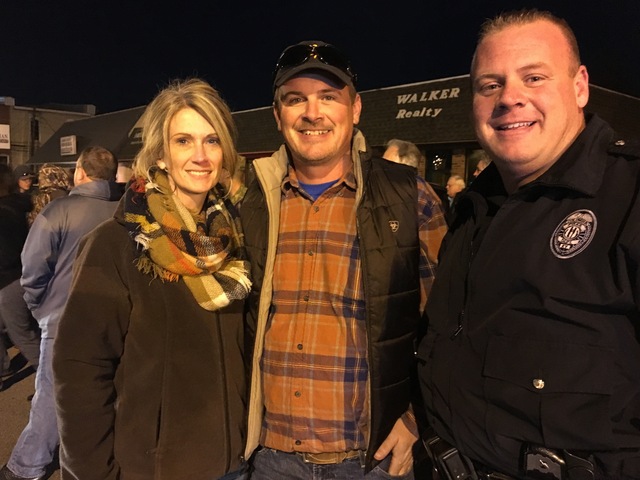 Historic Burkesville Street property goes into the hands of Julie & John Brockman who are open to suggestions as they look toward carefully restoring what is salvageable, and working the 18-acres m/l, so there's the potential to protect a significant green space in downtown Columbia, KY.
---
Click on headline for story with photo(s)
By Linda Waggener
Saturday evening as the Christmas in Columbia parade was coming to a close, folks were bidding farewell and Merry Christmas to each other and to this one couple, saying congratulations on a big event that had just happened. Julie Brockman shared, "John called me this morning and said, 'hey, honey I bought a piece of property.'"
And, indeed he had.
At the Saturday, December 2, 2017 Bryant Realty auction, John and Julie Brockman of Columbia became the new owners of the Pam Foust/Ralph Hurt estate -- what may possibly be the last undisturbed ground from earliest Columbia.
Ralph Hurt is remembered by those who knew him as a mostly mild-manered Columbia lawyer who played piano in his spare time, music that could be heard when the windows were open and the paperboy delivered the
Courier Journal.
.
The Hurt's one child,
Pam Hurt Foust
, who resisted development and insisted the property remain exactly as it had been inherited throughout her lifetime. At her passing, her four children inherited it and a sale was determined to be the best thing for all. Since one daughter, Laura Hill Foust, lives next door to John and Julie, the Brockmans have knowledge about the property and are open to learning all they can from others in town..
Julie teaches history at Adair County High School. John is a business owner. Together, they have the knowledge and ability to carefully restore what is salvageable of the historic home, and how to work the 18-acres m/l, removing trees that have lived their lives and must go, while leaving ones that can be saved so the property has the potential to remain a significant green space where possible.
"We are still processing," Julie said of the overwhelming project her husband brought home earlier in the day. Both were filled with possibilities, questions and ideas -- and she said they will be happy to have suggestions about the use of the property.
John mentioned he is thinking about speaking with the City of Columbia about making part of the space into a park. He also thinks part of it will be open for housing.
As a tree-hugger and lover of original, hand-made structures, their news gave me peace to know all efforts will be made to ensure generations to come will possibly have a slimpse of early Columbia. Like the historic courthouse, it matters.
This is a call for anyone with knowledge of the background of the property to send a note that may be helpful to the new owners as they go forward.
---
Reply to Lindawaggener@gmail.com by email, or click 'contact' below.
This story was posted on 2017-12-04 09:43:15
Printable:
this page is now automatically formatted for printing.
Have comments or corrections for this story?
Use our
contact form
and let us know.