Carol Perkins: I always wanted to be a Mother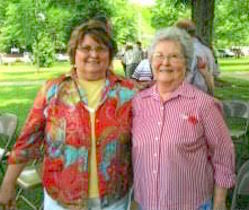 A story for Mother's Day. Photo: left, Carol Sullivan Perkins and her mother, Marguerite Sullivan.
---
Next previous Carol Perkins article:
Carol Perkins: Manifesto - the case against chickens
By Carol Perkins
I always wanted to be a mother. With my Gerber baby doll, I pretended she was real and consequently, did what mothers do. I changed her, rocked her, and fed her with the special bottle that came in her box. The water went in and came right out. She had her own bed, but often slept with me just like a real child might do. My baby doll is in a drawer now, looking worn from years of hugging. Plus, the rubber from which she was made is crumbling.
Didn't need a manual with firstborn
When Carla was born in 1969, I didn't need a manual. My brother was thirteen years younger, so I cared for him many times as if he were my own. Even though the late night hours of getting up and down did not happen when I was pretending motherhood or caring for my brother, I did not fret about it because that was part of caring for my newborn. Mothers sleep with one foot on the floor.
As children grow up and become mothers (and fathers) themselves, most of us want to "spare" them from the pitfalls we fell into with their rearing, but they do not necessarily want to listen. We can see what we didn't do right as mothers, and want to help them avoid "our" mistakes, but they are bound to charge ahead in spite of us. If only they would listen . . .
Motherhood is a playground for demons
Motherhood is the playground for demons. Guilt is swinging and sliding on this field. I have yet to meet a mother who doesn't harbor guilt about something she thinks she did wrong. Some of these feelings may be justified, but usually they are not. "I regret working when my kids were little." "I wish I had listen to them." "I was always so busy."
If her kids turn out not exactly as she had planned, she blames herself, "I don't know where I went wrong." However, often it has nothing to do with us. The "guilt" syndrome is alive in the circle of motherhood.
Hasn't yet learned to be mother to adult children
I have not learned the art of being a mother to adult children. I promise myself to keep my mouth shut when I see something that might need "attention" but I can't. When it comes to grandchildren, I sometimes feel the need to "defend" them. My favorite saying is, "Pick your battles." More often than not, if there is a dispute, I'm on the side of the children. That is just what we grandparents do.
When Jesus was on cross, his mind was on his mother
When I think of mothers, I remember the greatest mother of all. When Jesus was on the cross, his mind was on his mother. The second words he said were to John, his friend. "Behold thy mother." That was his way of telling John to take care of her.
How do we take care of our mothers; how do our children take care of us? Love. The greatest gift of all.
Carol Perkins is a regular weekly ColumbiaMagazine.com columnist and a co-host with Susan Chambers on the very popular The "Susan & Carol, Unscripted" show, live. FM 99.1 radio each Tuesday Morning at 10amCT.
This story was posted on 2016-05-06 12:22:08
Printable:
this page is now automatically formatted for printing.
Have comments or corrections for this story?
Use our
contact form
and let us know.