Reid F. Bunch, 90, Metcalfe Co., KY (1925-2016)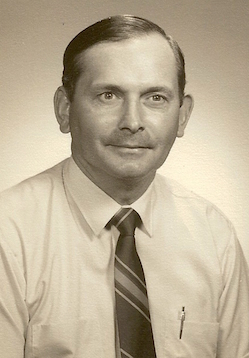 He was a retired realtor and member of the Pink Ridge Baptist Church. He was a remarkable, unforgettable individual. He had returned to Metcalfe County to live out most of his last five decades after many years as a young adult working in Chicago, IL. He was a very entrepreneurial businessman and was a colorful outspoken iconclast in public matters. He made his mark on the community and all who knew him. - CM
---
Click on headline for complete obituary
Reid F. Bunch, age 90, of Edmonton, KY, passed away Friday, January 15, 2016 at Diversicare of Glasgow, KY.
Funeral services will be held 1pmCT, Monday, January 18, 2016 at Butler Funeral Home, 201 East Street, Edmonton, KY, with burial in the Society Hill Cemetery, near Gascon, KY. Visitation will be from 5pm until 8pmCT, Sunday, January 17, 2016, and after 9amCT, Monday at the funeral home.

Reid F. Bunch, 90, Metcalfe Co., KY (1925-2016)
He was the son of the late Barrett and Goldie Bragg Bunch of Metcalfe County, KY. He was born August 11, 1925. He died January 15, 2016, in Glasgow, Barren County, KY, at the age of 90 years, five months, and four days.
Reid was a retired realtor and member of the Pink Ridge Baptist Church.
He was a remarkable, unforgettable individual. He had returned to Metcalfe County and lived out his last five decades after several years working in Chicago. He established a successful real estate business, and followed that with a career managing his rental properties and storage facilities.
He was iconoclast who was unafraid of the mightiest opposition or power. He made many friends - and earned his share of opposition. No one was ever unsure of where they stood with him.
On public issues, Reid Bunch always spoke from principle and conviction; when it came to business, one could expect him to drive a hard bargain and to be insistent that he got full measure for what he paid; suffice it to say he wasn't always everyone's favorite customer, but he was honest.
From day to day, the enemy/friend status for anyone might change, depending on the issues, not grudges. He was a watchdog of the media, most often taking up for the little guy, as he did when editor the local newspaper wrote up a raid on a lower level bootlegger as a major victory for law and order, for respect for the law. But Reid thought the raids were just perfunctory, for-show performances. He saw the bootlegger not as the embodiment of crime, but as a poor man - a human being who was simply making a living, as best he could.
He was active in Metcalfe County politics and was a candidate, at one time, for Metcalfe County Judge, taking on - and losing to, Metcalfe County's most successful local politician of all times, Woodrow Wilson.
He lent color to an already colorful cast of characters of his days on the Metcalfe County stage. He will long be remembered, long missed. He was one of a kind, one who played a unique and vital role in the affairs of the community.
He is survived by two brothers: Lindy (Grace) Bunch of Edmonton, KY, and Dalton (Violet) Bunch of Texas.
Send condolences to the family of Reed F. Bunch
Butler Funeral Home
, 201 East Street, Edmonton, KY.
This story was posted on 2016-01-17 20:13:51
Printable:
this page is now automatically formatted for printing.
Have comments or corrections for this story?
Use our
contact form
and let us know.