Mike Keltner ID's Where in the World is it? Peaceful little Branch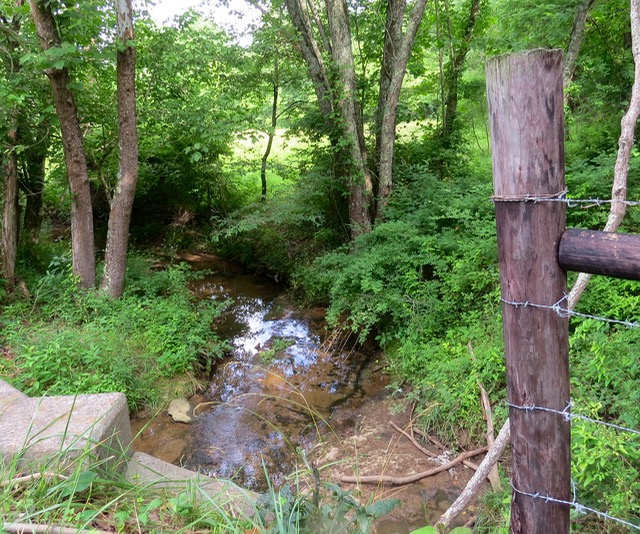 Answer: Skinhouse Branch at Camp Knox, which flows behind Mt. Gilead Christian Church in Southern Green County, KY
---
Next previous:
Where in the world it?
, not answered yet, by the way.
By Mike Keltner
If I am correct (he is, it's Skinhouse Branch) with the mystery picture here is some more on Camp Knox I pulled from
greencounty.ky.gov
:.
"About 1770, a group of some 22 hunters from Virginia united for a hunting expedition west of the Cumberland Mountains into what is now south central Kentucky. The Expedition was led by Colonel James Knox. Because they were away from their homes for up to three years at a time, they became known as the "Long Hunters."
"They entered into what is now Green County in 1770. They made their Base Camp (Camp Knox), in a valley they called the Beech Woods. Today, the Mt. Gilead Christian Church stands on the historic Camp Knox site. This camp served as their headquarters for frequent hunting excursions throughout a large area surrounding this camp. They brought back to their base camp the skins of deer, buffalo, elk, bear, beaver, and smaller animals. Over a period of several months, they had accumulated an enormous number of skins. They constructed a crude structure they called a 'skinhouse' to protect their pelts from the weather. They named the small branch of water that flowed beside their campsite, "Skinhouse Branch."
"The Long Hunters were forced to leave their campsite and return to their homes due to Indian raids. They were also forced to leave most of their valuable hides at the camp.
"Returning to Camp Knox several years later, they found that many of the hides had been stolen by Indians, and the remaining skins had rotted due to being exposed to the weather. On a nearby tree, one Long Hunter carved, '2300 lost – ruination by God.'
"Many of these original Long Hunters later returned to this area and settled with their families: Skaggs, Graham, Miller, Workman, Lisle, Hancock, Haskins, Caldwell, Allen, and Montgomery.
"The Long Hunters' Camp Knox Historic Site is located in Southern Green County near the Adair County line near Highway Route 61. A monument dedicated to the Long Hunters is located in front of Mt. Gilead Church that describes the historic Camp Knox to visitors."
This story was posted on 2015-08-02 09:02:03
Printable:
this page is now automatically formatted for printing.
Have comments or corrections for this story?
Use our
contact form
and let us know.