Guess what Sam Holmes is holding? draws several answers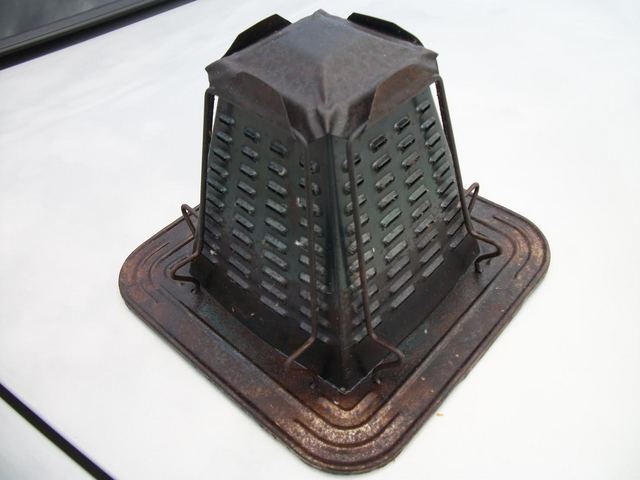 Click on picture at left for all the answers, with larger photos
---
By Ed Waggener
Tommy Bailey's Guess what drew a spate of answers from, in order, Charles Marshburn, Vernon York, Richard Phelps, the COF, Cynthia A. Meyer, Bob Barnes, Linda Seaton, and John McCasland, who all concurred, but each have interesting information on the item.
Their answers are as follows:
Charles Marshburn - That contraption is a toaster!


Vernon York - It's a toaster......sits atop a gas burner or camp stove. Place four slices of bread on the slanted sides, turn when brown on first side. YUM.


Richard Phelps- A TOASTER: Before Electricity days. Stand your bread up on each side, set it over the fire, heat, etc and let it toast your bread. They still make them for camping.


The COF at Dun Roman, High O'er Downtown Knifley, Whar ya jest Kain't befuddle the KU Round table! - Hit's a bread burner!


Cynthia A. Meyer- Looks like the toaster my Grandma had.. she put it over the burner on the gas stove, and could toast 4 slices of bread at one time! Simple pleasures from simpler times.


Bob Barnes- The item Sam is holding reminds me of a four slice toaster that I used to use when I camped. One of Pete Walker's sons, Stuart, and I would cook an awesome breakfast with toast after roughing it in the wilderness behind their home. This is the same house that John Rigney owns today. (Columbiana on Reed Street. But it now has yet new owners)


Linda Seaton - This is an antique toaster. . . it toasts one side of the bread at a time.


John McCasland- Tis a toaster; used one many times.
Thus endeth the quest for the answer to Guess What Sam Holmes is holding? from Tommy Bailey. One of the best ones yet.
This story was posted on 2015-07-25 20:19:52
Printable:
this page is now automatically formatted for printing.
Have comments or corrections for this story?
Use our
contact form
and let us know.