Lost on a Day Trip in the heart of TAG - Taylor-Adair-Green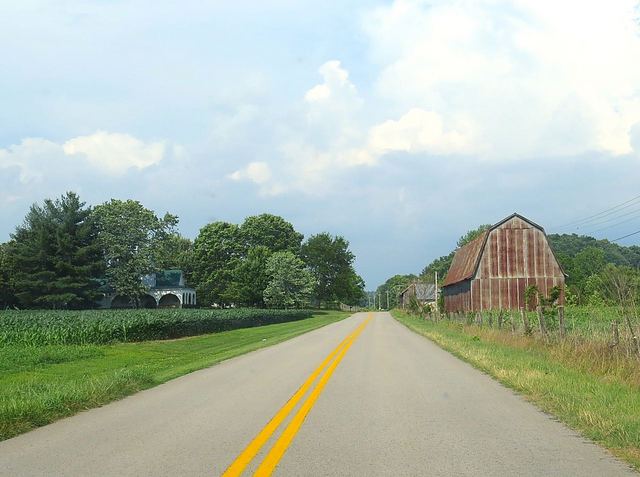 Area west of the "capitol" of T-A-G, Coburg, KY, is a great place to get lost and just wander a Day Trip, at lunch time. A hour or less takes one from scenery right so much like the heart of the Midwest, to sweeping vistas from hilltops; and, even if you're lost and don't resort to your cellphone to pinpoint your location, most of the time you can follow your instincts and come out at a surprise familiar intersection. Just have a half of tank of gas and maybe a picnic sandwich for a delightful know-your-South Central Kentucky better Day Trip.
---
Click on headline for complete or photo for Big Picture. As always, edification and enlightenment is welcome.
By Ed Waggener
There are gorgeous summer scenes on KY 1913 along KY 1913 west of Coburg, KY. I'm not sure which county one is in for the photo with this story; clicking on the thumbnail will access the Big Picture.
The road flips back among Taylor, Adair, and Green Counties, and I was too enthralled by it all, especially this wonderful barn and the house in the summer shade, I didn't take good notes.
However, in defense, locals around the capital of T-A-G, Coburg, KY, mostly just call the road "1913." That seems to be easier.
Locals give points of reference as "the wheat fields," or "Greg's" (Corbin's) place.
In Coburg, KY, where a few young people of vision are foreseeing dreams of a vastly more important commercial center - with ideas like a centrally located fairgounds, an industrial park, a re-birth of a resort like Griffin Springs or a hotel; some, such a Norvel Farris, even dare to think of a Stop Light, just to calm traffic and make tourists stop and see the beauty of the area.
"Truthfully," to paraphrase the words of the late Dean of Adair County Journalists, Paul Hayes, I was looking for the Coburg Cougar, on a Day Trip Friday afternoon. That animal, Norvel Farris says, has been sighted on occasion, in an area south of of Ky 1913.
Truthfully I was a bit lost some of the way.
The trip was made from a 45 minute layover in Coburg, KY, anxiously awaiting a romantic rendezvous with my first wife, Linda, who was finishing up another day at work in Campbellsville.
The road led to Green County. In Ebenezer, a somewhat best kept secret close to home, I took Pikeview Road, just to see where it came out. Eventually it led to KY 61 near the bridge near the old Hugh Squires Store. Along the way I marveled at what grand changes take place in less than 10 miles in South Central Kentucky, from the Midwestern look of KY 1913, to the high country on Pikeview Road, which offers many sweeping vistas I can't recall seeing during any of my nearly 75 years of search for such places.
KY 1913, for miles at this point in the picture, looks like the best of the Midwest as the Fourth of July approaches - and one might not know, if blindfolded and set down here, whether they were in Ohio, Indiana, Illinois or Iowa. (Just one disquieting note.)
There was too short a time to photograph all the flowers and butterflies. But the orange blossoms of milkweed was seen, and that makes butterfly photography an enticing activity for fanciers of the pretty pollinators, appearing now. The rest of this short story: Drove ahead to OKCC, met my date in a very, very busy Betty's OKCC. Had, as always a wonderful meal.
Got caught up on the news of the week including details of affairs, most significant, a verbal account of the Best Good News of the Week, that CJE Mike Stephens and Deputy Holly Grimsley attended the Thursday, June 11, 2015 meeting of the Adair Heritage Association where the officials confirmed, once again, Judge Stephens plan to give the Historic Adair County Courthouse new life in the simplest, most obvious way: Move CJE office to the building, move 911 there too. In the process, Linda said, Judge Stephens wants to give more space to the very, very busy Adair County Clerk's office.
Oh yes, couldn't help but overhear the central topic of conversations around the crowded restaurant: Betty Ollestads fabulous flowers. This may be the best year ever for those lovely lilies she and her staff coax from the beds.
It was an upbeat summer evening. The rest of the weekend portends more of the same. - EW
This story was posted on 2015-06-13 04:58:18
Printable:
this page is now automatically formatted for printing.
Have comments or corrections for this story?
Use our
contact form
and let us know.