Happy Tail: Regrets overwhelmed, but Eden made them go away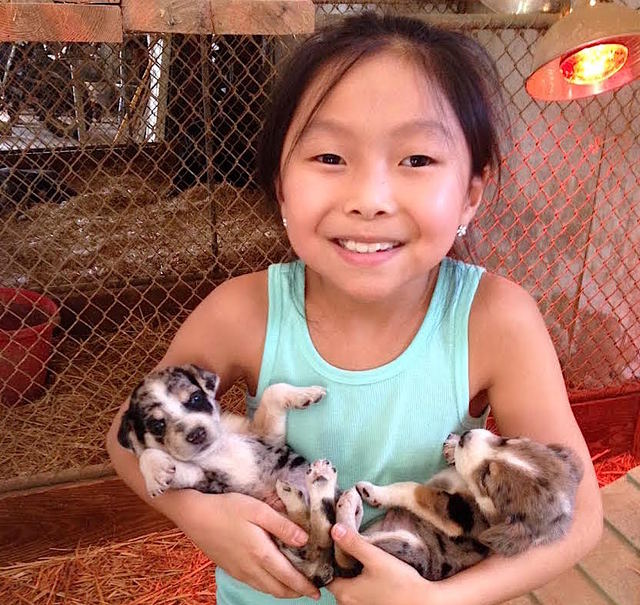 Peg Schaeffer wonders if she's an enabler for persistent dog welfare offenders - individuals who refuse to spay and neuter, vaccinate, license, and practice responsible pet ownership - when her big heart rules that the welfare of the dogs outweighs outrage at being used by those who just never get the message. There's regret over those who adopt, and betray the trust she put in them. But then, the bad feelings evaporate when hope, in the form of a caring vet, Dr. Olt, and a wonderful little girl, Eden Bradshaw, made the bitterness she had felt all go away. 'This life is a constant seesaw,' she says.
---
Click on headline or photo for complete Happy Tail with photo(s). Next Previous Happy Tail:
Happy Tail: Wally, the dog who could jump like a deer
By Peg Schaeffer
Often when people come to the farm and see the dogs running and playing in the yard they tell me "I wish I had enough land to do what you're doing". And I always tell them "No, you don't."
This life is a constant seesaw
This life is a constant seesaw. I often wonder if I'm becoming an enabler. I'll get calls from owners who want to bring their dogs here. The stories are all the same "I don't have time for him", "we're having a baby", and my favorite "we're moving and can't take him with us". A friend of mine once told me if she couldn't bring her dogs with her she'd just live in a tent. I agree. Then there are the people who find a stray dog and bring it here because "I already have a dog, I don't need another". (I wish I could say that.) "We heard about you and I don't want to take the dog to a shelter because they'll euthanize him." If I said "no" would they take the dog to the shelter or would they make more of an effort to find a home for him or keep him?
Man who wanted to bring litter of puppies had done so before
Early last month I got a call from a man who wanted to bring me a litter of puppies. They hadn't been vaccinated or wormed. I suggested he take them to the shelter but he said he couldn't. He just didn't want to see them penned up in a small crate. As I talked to him I found out he had brought me his dog's last litter of puppies. Again I'm enabling him. If I hadn't taken the last litter of puppies would he have gotten the mother spayed? Or would he just let her have another litter? I finally agreed to take the puppies in but only if he had the mother spayed. So the mother has been spayed and I had five puppies to find homes for.
Before puppies adopted out, they are vaccinated twice and wormed
Before I would adopt the puppies out I had them vaccinated twice and wormed them every two weeks. A young couple called looking for a puppy and picked out a cute male with four white paws. Another woman came and adopted the other male and named him "Apollo". Then a college student called me looking for a puppy. When she came the three remaining puppies followed me to the fence to meet her. She fell in love with a puppy I called Lindsey. She held her in her arms and took a photo with her cell phone to send to her sister. They were getting the puppy together. Her sister then got on the phone and asked me 100 questions. They talked back and forth and decided to adopt her and would rename her Harley. I completed the paperwork and micro-chipped the puppy. I gave her a health record and had her sign the adoption form. When I asked her for the donation she told me she didn't have any money. (Who comes to adopt a dog and doesn't bring any money?) Then she told me how her sister was meeting her halfway to pick up the puppy and would give her the money. I've always been a trusting person and she promised she'd be back that night with the money. I (against my better judgement) agreed to let her take the puppy and she could bring me the money in the morning.
She never came back with the money
You know where this is going. She never came back with the money. I called her and reminded her that she promised me the money. Well it's almost a week now. I still don't have my adoption donation and she doesn't answer my calls. This has bothered me to no end all week. I'm a very trusting person but now that I've been burned it won't happen again. Fool me once shame on you. Fool me twice shame on me.
Dr. Olt's patient donates legacy pills to Gertie
Friday afternoon I took Gertie, our first rescue dog to the vet. Gertie had what I thought was an abscessed tooth and it turned out to be oral cancer. So she goes to the vet for chemo treatments. When I was there on Friday Dr. Olt told me that she had a client whose dog also had cancer. For the past few years the owners have been giving the dog a prescription drug that is very costly. Recently the dog died. The owners had just renewed the dog's prescription. They asked Dr. Olt if she knew someone who could use the remaining medication. Dr. Olt told her about Gertie and they are donating the pills to Gertie.
Eden Bradshaw donated birthday gifts to the shelter
Then on Saturday I got a phone call from a woman whose daughter, Eden, had donated her birthday presents to the rescue. Eden had some more donations she wanted to bring and they were going to stop at the store. What did the dogs need? I gave her a shopping list and later in the day Eden and her Mom came bearing gifts. They had dog treats, collars, and even kitty litter. I have a Beagle who was brought here as a stray and she recently gave birth to six puppies. So she also brought puppy chow and formula. They visited for a while and Eden played with the puppies.
Bitterness felt all week has subsided
So the bitterness I've been feeling all week has subsided. Someone who doesn't even know me has donated medication to help Gertie battle cancer. A little girl thinks enough of us to use her birthday money and allowance to help the dogs. Maybe the student who adopted the puppy and hasn't kept to her promise can learn a lesson from Eden. And I've learned a lesson from Eden too. There's nothing like the generosity of strangers and puppy kisses to make you feel better.
- Peg Schaeffer, President and Founder, Sugarfoot Farm Rescue
---
Contact us if you would like to help.
Peg Schaeffer, Sugarfoot Farm Rescue,
860 Sparksville Road
Columbia, KY 42728
Sugarfootfarm.com
sugarfootfarmrescue@yahoo.com
Home telephone: 270-378-4521
Cell phone: 270-634-4675
This story was posted on 2015-04-26 04:21:46
Printable:
this page is now automatically formatted for printing.
Have comments or corrections for this story?
Use our
contact form
and let us know.