Memories of our house: 705 Jamestown Street, Columbia, KY
Random thoughts from the accompanying photograph of 705 Jamestown Street as it once was: Trees. Granny Waggener's room. Lessons we learned on Bluejays and Micky the cat. Hoop and Glass Snakes. Traffic safety lessons learned and forgotten.
---
By Ed Waggener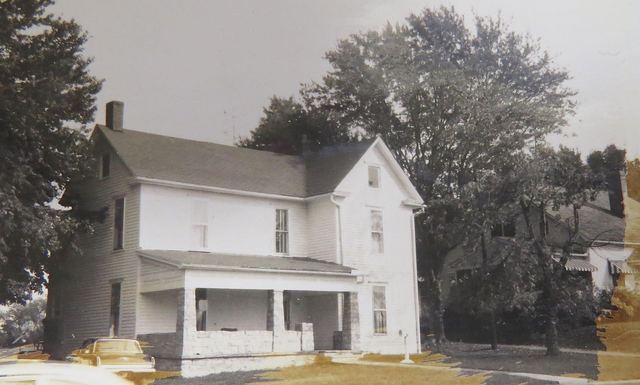 That's Ralph Roy's beautiful navy blue four-door Valiant - I think from Feese Motors, by the front porch.
This is in a later, less shady era, after Jamestown Street was widened and a Great Pin Oak landmark was sacrificed. The house barely seen on the right was, for a long time, Columbia's Gracie Manor, the residence of Columbia Mayor Ralph Willis, during whose term natural gas came to Columbia.
The browned areas on the lawn are Polaroid photo aging problems. The lawn is in one of it's better states - or worse, depending on how you look at it. During most of my years there there was a well traveled grassless circle around the house, where kids from all over Jamestown Hill rode wagons and trikes and scooters and bicycles round and round.
The upstairs left room was my room at one point. But I remember it most for the times when my grandmother, Etna McCaffrey Waggener, would come live with us.
The window looked out on a theatre of nature for her, far better than anything on Netflix or cable today. She'd watch the life of bird families from year to year, and they became a part of her family - even Bluejays, which she thought were a beautiful but mean sort of bird with no life principles three little boys should emulate.
And she'd fuss for days when the neighbor pet, Micky Cat Martin, would climb near the nest.
That tree and that room was a safe place for Granny to tell us about Hoop and Glass Snakes. I don't remember whether she had actually seen them, been told about them by reliable sources, or had nearly seen both species. But she was a woman of great faith, and believed in their existence in her native Milltown, at her home at Garlin, even maybe in that might fertile 1.1 acre urban farm above.
Sadly, when the estate was settled, none of us bought it. The big factor: It wouldn't be safe to raise kids by the ever busier Jamestown Hill traffic, traffic that had already resulted in injury to one of our own, a car-kid collision.
Life lesson learned from that terrible childhood by too many:
Pedestrians ought to know better, even six year old kids. They need to be more careful. It was a family failure not to teach the little boy to chase a ball into the road. Traffic trumps pedestrian, bicycle, and motorcycle safety, and there's nothing needed be done about it. Traffic must be unimpeded, not even for the sake of safety, sanity, a healthier, less expensive lifestyle, human life and the economic improvements it would bring.
But I don't believe that. I agree with Mary Ann Loy. There's a better way. There has to be. - ED WAGGENER
This story was posted on 2015-04-10 06:57:36
Printable:
this page is now automatically formatted for printing.
Have comments or corrections for this story?
Use our
contact form
and let us know.