History Cousins, Mike & Jim: James Kenneth McAllister
About a week ago, Mike Watson posted the photo at left, asking for guesses as to its location. Several people guessed, correctly, that it is in the Historic Adair County Courthouse.
---
From Mike & Jim, the History Cousins
A week or more ago, Columbia Magazine posted the photograph of theplaque in honor of James K. McAllister. A native of Adair County and aSpecial Agent with the FBI, he was killed in a training exercise inVirginia in April 1986.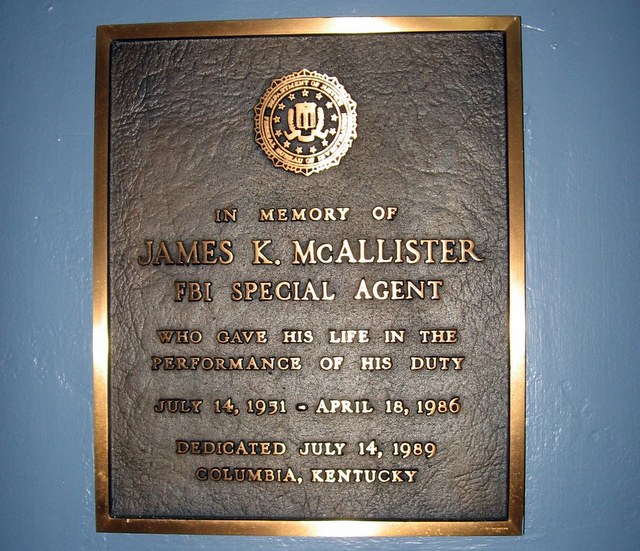 James Kenneth McAllister, native of Adair County, son of James andBeulah Dial McAllister, a Special Agent with the Federal Bureau ofInvestigation and a member of the FBI's Hostage Rescue Team, diedafter falling from a helicopter in April 1986 while on a routinetraining exercise at Quantico, Virginia.
He was an original member ofthe fifty member anti-terrorist unit which became operational inSeptember 1983, prior to the 1984 Los Angeles Olympics, and wasdesigned to provide effective civilian response capability and asubstantial deterrent to terrorist activities.
Our history is one of sacrifice for the greater good. Special AgentMcAllister gave his life to maintain our general welfare.
Special Agent McAllister was born in Adair County in July 1951 and wassurvived by his parents and brothers. The plaque's location is in themain hallway of the Historic Adair County Courthouse.
- Mike and Jim
This story was posted on 2012-06-24 08:47:04
Printable:
this page is now automatically formatted for printing.
Have comments or corrections for this story?
Use our
contact form
and let us know.