Adair County writers III: E.L. Dohoney
This is the THIRD in a series of reviews of the works of Adair County writes, from time-to-time, until and maybe past the 2012 First Annual Adair Genealogy & History Book Fair Saturday, June 2, 2012 10am-3pm (CT), at the Historic Adair County Courthouse, 500 Public Square, Columbia, KY. Admission and parking are free, and the event is open to the public.
---
The next previous writer review:
Judge H. C. Baker
By JIM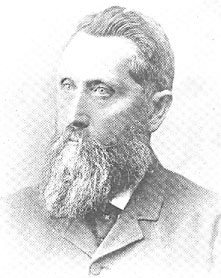 "That speech established my reputation, at least, as far West as Big Creek."
You may have read a volume or two penned by E.L. Doctorow, but it's unlikely you've perused anything written by Adair County native E.L. Dohoney (1832-1919).
In 1859, Ebenezer Lafayette Dohoney (who wisely went by E.L. or Eban), then but a stripling lad of 27, stole a march on Horace Greeley and departed the banks of Big Creek, Texas bound, six years before Mr. Greeley uttered his well-known directive. Eban later would write that he "went West to grow up with the country." Of his earlier life, one source states
"He worked on a farm till 19 years of age. He then spent five years in teaching school, attending college, and studying law. He graduated in the law department of Louisville University in 1857, and soon afterward began the practice of law in Columbia, Ky."
(The Handbook of Texas Online states "He graduated from Columbia College in 1854 as valedictorian of his class..." While a school operated in Columbia for several years under that name beginning in the mid-1830s, the more likely candidates would be either the school for boys conducted by Rev. Brooken P. Taylor in the old Robertson Academy building or the one conducted by Rev. P. Akers, a Methodist minister, during the 1853-54 school year. Ref: Mike Watson's "An Adair County, Kentucky History," Vol 1, pp 254-256.)
In his "Sketches," Judge H.C. Baker noted that E.L., a cousin of former Lt. Governor J.R. Hindman, "was born on Big Creek in Adair County and commenced the practice of law at Columbia. Later, he removed to Paris, Texas, where he has since lived. He has served one or more terms in the Senate of that State, and held other offices of honor. He is also the author of several books."
Mr. Dohoney was a man of many parts, a man of many passions. He was ardently anti-slavery, and, before the war, anti-secessionist, but he served two years in the Confederate army, rising to the rank of captain; championed women's suffrage for four decades or more; and was a strict prohibitionist. As the latter, he successfully engineered a local option clause for inclusion in the Texas constitution of 1876 and unsuccessfully ran for governor of Texas a decade later. In things religious, he served for many years as a Elder in the Christian Church. And, as noted above, he also wrote a number of books, five (known), to be exact.
In the summer of 1906, he was scheduled to be a guest speaker at the great Adair County Homecoming, but in his own words, "fate has ruled otherwise; business calls me elsewhere." However, the News reported that as part of the program, "A well written address by Hon. E.L. Dohoney...was then read which was enthusiastically received."
The address, published in its entirety in the June 27, 1906, edition of the paper, covered nine full columns--a little over a one and one-third pages of fine print. In speaking of his early life in Adair County, Mr. Dohoney lovingly wrote
"More than fifty years ago, your humble speaker came into Columbia from the hills of Big Creek and entered college. At the end of the session [in 1854] the honor of the valedictory was accorded me. I will never forget that speech. The subject was, 'The origin, progress and future destiny of our country.' It advocated expansion...and threw out a prophetic forecast, which the history of the Republic is rapidly fulfilling. That speech established my reputation, at least, as far West as Big Creek.
"Big Creek! What a rush of sweet memories that name brings up. On the waters of that famous creek I spent my boyhood days. There is not a hole from its mouth to its junction with Barley fork, below Gradyville, in which I have not fished or swam.
"On a beautiful farm on the West bank of this stream I was raised. The residence stands up on the top of the hill and at the foot of the hill the old spring trickles and runs into an iron kettle, which my father placed there over seventy years ago. Here on hot summer days my brothers and I used to come to slack our thirst, and rest under the shade of the old beech trees, which yet stand around the spring. To our minds, even to this day, 'The old oaken bucket...' which has been immortalized by the poet, is not half as dear as the 'old iron kettle' which for three quarters of a century sat under the spout at the foot of the old homestead hill. Some poet should immortalize that kettle.
"On the crest of that homestead hill, commanding a fine view of the Big Creek valley, under the shade of the beautiful sugar maple, rests the mortal remains of my parents, a brother and three sisters. My revered parents [Peyton and Mary Dohoney], though favored by little education, passed all the cardinal virtues of life... [and] they impressed good moral character upon their children and gave them the advantage of a fair education...
"But I am dwelling too long on Big Creek and its sacred environments. I love every creek and branch and spring, and all the hills and valleys of Adair County. And after having seen all the best parts of the West and South-west, as well as much of the North and East, I want to say, here and now, there is no part of America more beautiful than Adair County..."
One source states Mr. Dohoney authored six books, but this somewhat less than intrepid biblio-detective has thus far been able to account for only five, as has the considerably more intrepid biblio-detective Brother Cousin Mike Watson. Those five are:
"Man: His Origin, Nature and Destiny" (1884 or 1885; republished in 2011 in facsimile edition (paperback) by Nabu Press.)
"The Constitution of Man in the Physical, Psychical and Spiritual Worlds" (1903; currently available as a print-on-demand.)"An Average American" (1907; autobiographical; the full title is "An Average American: Being a True History of Leading Events in the Life of Lafayette, who was Born in Ky.; But 'went West to Grow Up with the Country.'" Currently, one copy -- a first edition "Inscribed by the author to his sister on the front endpaper" -- is available online for a cool $2,000.)
"Human Culture" (1914; currently available as a print-on-demand soft cover.)
"Evolution of an Elder: Being a Brief Outline of My Spiritual Development" (1916)
Other than "An Average American," the above-named tomes fall within the realm of philosophy and spirituality.
("Christian Science," a 14 page essay published in 1889, may have been misconstrued as the elusive sixth "book."
In addition to books, Mr. Dohoney also penned articles and pamphlets. An example of the former, "National Banks; Why They Should be Abolished" appeared in "Watson's Magazine," Volume XXII, No. 2 (December, 1915), pp 77-78. Many of the pamphlets, considerably more ephemeral in nature, were lost when his house and the contents therein were consumed by fire in 1916.
When he passed in the spring of 1919, one person referred to Mr. Dohoney as "a stimulating thinker...a man who lived in the future as well as the present," and the Christian Courier noted that "He was a man of such pleasing personality that all right-thinking people loved him whether they agreed with him or not." The most touching words, however, were penned by his baby sister (and last surviving sibling), Miss Kate. In a brief memorial which appeared in the News, she wrote "[He] was [Peyton & Polly's] eldest and myself the youngest child, and all our lives we have been chums...and tho we have dwelt far apart, many a word and deed of his has made my heart happy."
This brief sketch, with an emphasis on Mr. Dohoney's literary achievements, in no way does justice to his many other accomplishments. The reader is referred to these sites for more information:
"He seemed to specially love his native county, Adair, and I think some relatives and other people there will remember him." (Kate Dohoney, April, 1919.)
Above penned by JIM
This story was posted on 2012-05-30 07:12:05
Printable:
this page is now automatically formatted for printing.
Have comments or corrections for this story?
Use our
contact form
and let us know.