ACHS Class of 2012 Commencement will be Friday, May 18, 2012
Commencement exercises for the
Adair County High School Class of 2012
will take place on Friday, May 18, 2012, at 7:00 p.m. CDT at the John Burr Memorial Gymnasium (526 Indian Drive, Columbia, KY). Each senior who is participating in the graduation ceremony has been given two tickets for early entry. Ticket holders may enter the gym at 5:30 p.m. CDT. The general public may enter at 6:00 p.m. The Class of 2012 is made up of 154 students.
Twenty-five students will be wearing gold cords indicating they have a four-year cumulative GPA of 3.75 or higher on a weighted 4.0 scale. An additional 51 students will be wearing red, white, and blue cords signifying that they have a four-year cumulative GPA between 3.0 and 3.74 on weighted 4.0 scale. Seventy-five students have met the standards for receiving a college preparatory diploma, as well.
Special music will be performed by graduating seniors and the ACHS Band.
The class motto is "We Stand Together," the class colors are Red and Blue, and the class flower is the Daisy.
This story was posted on 2012-05-16 11:17:02
Printable:
this page is now automatically formatted for printing.
Have comments or corrections for this story?
Use our
contact form
and let us know.
To sponsor news and features on ColumbiaMagazine, please use our
contact form
.
Adair County High School Class of 2012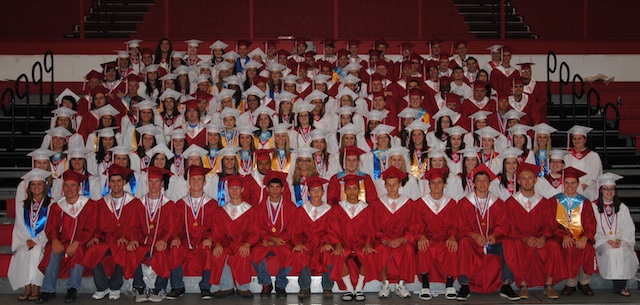 2012-05-16 - Columbia, KY - Photo courtesy Chad Parnell, ACHS. In alphabetical order (not photo order): Melanie Blake Alexander, Jordan Micah Alfaro, Megan Dean Badgley, Jamian Seth Bailey, Delena Jo Ballou, Samantha Joanne Ballou, Angela Marie Barker, Robert Logan Barnes, Rhoda Faye Baxter, Lucas Robert Bearden, Briana Olivia Bertram, Brandon Wade Bloyd, Anna Nicole Bolinger, Sara Brooke Bragg, Jacob Addison Brehm, Derek Lewis Brockman, Ashley Brooke Brown, Chasity Paige Burchett, Chaz Tyler Burress, Brooklynn Paige Burton, Emily Anne Burton, Haley Machelle Burton, Nathan Alan Burton, Elizabeth Carol Ann Caldwell, Kishia Nicole Carey, David Allen Carter, Brandon Jared Catron, Allie Rae Chadwell, Dylan Ray Harper Claiborne, Kansas Marie Clemmons, Cheyayne Marie Coffey, Roger Lucas Coffey, Joshua Dylan Collins, Wesley Aaron Compton, Alexis Christine Cook, Mary Susan Coomer, Dustin Lee Coomer, Ashlee Meridith Corbin, Courtney Lynn Curry, Hunter DeLucca, Jared Wade Denton, Sarah Renea Derman, Barkley Payton Edwards, Jacob Scott Estes, Laura Willis Feese, Monessa Lavonne Feese, Jordan Matthew Lynn Ford, Danielle Lashay Foster, Michael John Foster, Eddie Doyle Franklin, Stephen Van Giles, Cory Russell Greene, Andrew Blake Greer, Jerrod Edward Grider, Casey Janae Hadley, Samantha Jo Hadley, Sarah Kathryn Hadley, Daniel Howard Hagerty, Briana Jade Hagy, Rachel Danielle Hancock, Michael Fred Harris, Jacob Shawn Hatcher, Kayla Shawntel Nicole Hicks, Jack William Hobbs, Taylor Nicole Hodges, Kayla Brea Holmes, Brie Deshae Hughes, Bethany Renee Inscho, Christopher Lee Janes, Courtney Lashay Janes, Lauren Marie Janes, Megan Renee Danielle Janes, Ashley Elizabeth Jeffries, Karli Michelle Jessie, Briana Nicole Johnson, Kayla Darnell Kelsay, Dametress J Kirkendolph, Reilly Alaine Leslie, Leanna Elizabeth Lewis, Cortney Shea Long, Riley Lane Loy, Jeremy Landon Mackin, Keisha L Mann, Kyle Brent Mann, Lonnie Lee Mann, Hailey Catherine McBeath, Erin Gail McClister, Tyler Lawson McGaha, Russell James Mings, Cassandra Lynn Mitchum, Charles Tyler Moody, Felicia Ann Morgan, Lauren Brooke Murphy, Samantha Jo Murphy, Meredith Payton Murrell, Alexander Michael Myers, Ashley Nicole Neat, Chelsea Danielle Nowlin, Cora Denise Nowlin, Chanley Nikko Otterson, Derrick Jordan Overstreet, Brandy Nicole Parson, Curtis Justin Pavlik, Bethany Lee Pepper, Rachel Jo Pescosolido, Whitley Paige Phillips, Jonathan Edward Preston, Tessa Starr Prim, Levi Ballou Ramage, Emily Shay Redmon, Jeran Blake Redmon, Justin Neal Reeder, Hunter Renae Rich, Randy Travis Richards, Kasey Bruce Risinger, Charles Jamison Roberts, Portia Brianne Roberts, Kara Dawn Rodenbrock, Brittany Nicole Rowe, Emilee Ann Royse, David Logan Sandusky, Bradley Chance Scholl, Kayla Mae Shelton, Courtney Michelle Shuck, Natiaha Nichole Sigurbjartsson, Elisabeth Renae Smith, Elliot Gregory Smith, Joshua Dewayne Smith, Emily Jo Sneed, Tyler Neal Spoon, Randell Joe Streeval, John William Brendel Stubbs, Brandon Louis Thompson, Kanassa'ai Ali Thompson, Charles Alex Tooley, Audra Nicole Turner, Clay Madison Turner, Heather Nacole VanArsdale, Destanie Nacole Webster, David Duane Wheat, Hali Dyani Wheat, Dakota Lynn Wheeler, Trenton Dale Wheeler, Canaan Seth Williams, Kaleb Christopher Willis, Kyle Anthony Willis, Brooklyn Nicole Wilson, Leslie Caroline Wolford, Jesse Robert Woods, Andrew S Wooley, Andrew Wayne Wright, Ashleigh Nicole Rae Yoebstl, Allan Kyle Young, Earl Gordon Young.
Read More... | Comments? | Click here to share, print, or bookmark this photo.