Today, THURSDAY with CM, January 19, 2012
Welcome to Columbia/Adair Co., KY - Home of Count Cardinal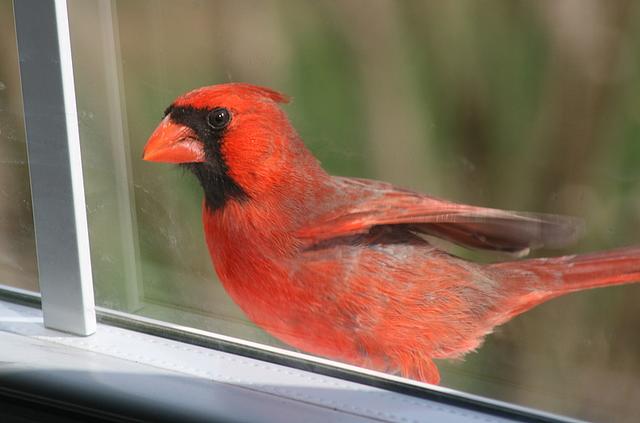 Welcome to ColumbiaMagazine.com
Count Cardinal, the wonderful bird which symbolizes the annual Great Backyard Bird Count, (this year February 17-20, 2012) was photographed by Barbara Armitage at the Farm at Tucker's Station. The beautiful bird has been a frequent and amusing breakfast guest, pecking on the window as Barbara and Wayne had breakfast, as though it were the humans being. Maybe, maybe not, but we like to think it was that way. Humans and animals seem to have the same ability to connect with each other here, a reflection of the way people also treat people here.
Count Cardinal file photo from CM archives, first posted over two years ago on January 12, 2010. Photo by Barbara Armitage.
Haiku by Robert Stone for January 19, 2012:
Waking at sunrise,
body searches for the old,
mind seeks for the new.
--Robert Stone, Thursday, 19 January 2012.
-1000 haiku countdown to Chambers Stevens' 50th birthday, Day 128, in progress
---
Chase Spreen YouTube Video passes 1.25 MILLION viewer mark -
The view counter on the YouTube video for Lindsey Wilson College basketball sensation Chase Spreen's three-quarter court, 80 foot, game winning, basketball shot climbed over the 1,250,000 mark during the night. This morning at 4:45amCT, the counter stood at
1,272,070
To see it, click on:
Full Court Buzzer Beater (Chase Spreen) Lindsey Wilson College vs. Georgetown
Inspirational to watch every morning as a day starter. It's make your day go better, a reminder of all the great people who are right here.-EW
Count Downs
:
29 Days to the Great Backyard Bird Count. February 17-20, 2012.
32 days to Next Federal Holiday, Washington's Birthday, February 20, 2012
Front page sales and events Countdowns available for up to 7 days prior to event. Call 270-250-2730 to book space.
It's as easy as buying a cup of coffee.
-CM
---
Beta Google Search to search CM
Try it and let us know how you like it. Search all the archives of ColumbiaMagazine.com using Google's advanced search tools:
Search ColumbiaMagazine.com with Google Search
Click Readmore for the Quick Index for Columns, Albums and Must Read Stories PLUS Quick links to Schedules
SUNDAY with CM - Jan. 15, 2011 Columns, Special Stories, Special Albums Index
for your favorite writers + important news stories, features, and Must Read recent stories on CM.
The story of Smokey (Smokie)
Adair County Schools Athletics Schedules
This story was posted on 2012-01-19 04:02:15
Printable:
this page is now automatically formatted for printing.
Have comments or corrections for this story?
Use our
contact form
and let us know.