Special News, Ads, FRIDAY, October 1, 2010
(ADV) Adair Co. Republican Party Rally is October 2, 2010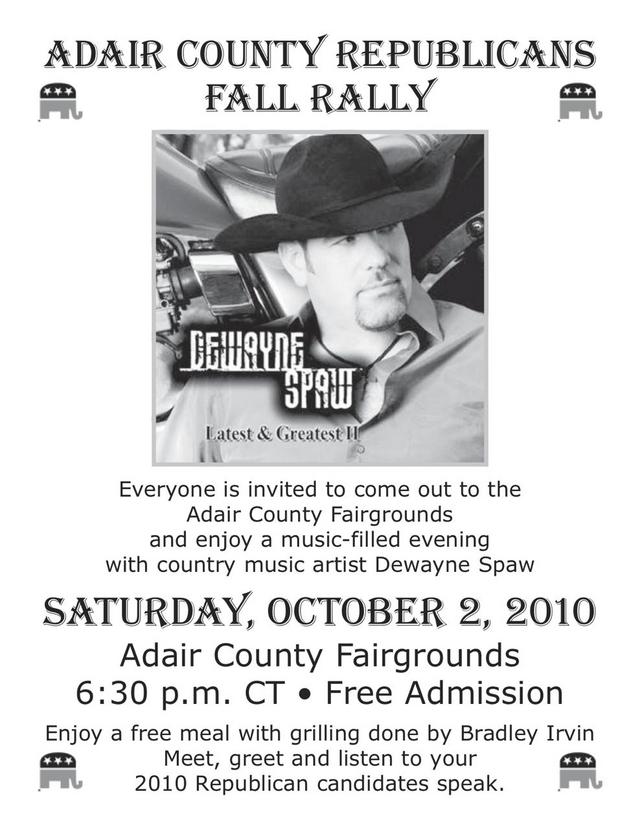 Click to larger view
Photo From Adair Republican Party. Paid Political Adv. Paid for by Adair Co. Republican Party, Patty Nall, Treasurer
---
Countdowns and Special Calendars
1Days To the Westlake Regional Hospital Health Fair
MORE DETAILS
Sponsored

1 Days to Adair County Republicans Fall Rally. 6:30pmCT. Saturday, October 2, 2010. Free Admission. Free Meal with Grilling by Bradley Irvin. Meet, Greet and listen to your 2010 Republican Candidates speak. Country Music Entertainment by Dewayne Spaw. Spread the Word: Printable Poster Adair County Republicans Fall Rally
Adv. Pd. for by Adair Co. Republican Party, Patty Nall, Treasurer.
9 Days to Downtown Days/Folklore of the Old West Festival, October 8 & 9, 2010. Click to Spread the Word: Printable Calendar Brought to you by The BANK of COLUMBIA
30 days to End of Adair County FFA 2010 Reflective Address Marker Campaign. Sales thus far this campaign: Address Marker Sales as of most recent report, 305
33 days to November 2, 2010, General Election
Lindsey Wilson College Cultural Affairs Events. Calendar Detailed schedule of lectures, plays, displays

The 2010 Westlake Regional Hospital
HEALTH FAIR
7:00AM to NOON CENTRAL TIME! Saturday, October 2, 2010 At Westlake Regional Hospital

A COLOR TELEVISION WILL BE GIVEN AWAY!


At the Health Fair . . . We are offering over $300.00 in health screenings for only $12.00 and there will be many healthcare-related booths and much more. Blood drawing from 6:30 A.M. To 9 A.MCT. Blood will be drawn from your arm for more than 30 different analyses, which include a complete blood count (CBC) a chemistry profile with HDL Cholesterol and a Thyroid profile. Also available are three free Colo-rectal cancer screens. The PSA cancer screen is recommended for men over 50 or men who meet any of he following three criteria: (1) Family history of cancer of the prostate or (2) had a vasectomy, or (3) is a black American.



The PSA will be an additional cost of $8.00.


REMEMBER TO FAST, having only water to drink for 12 hours before your blood draw. Due to the changes in federal law regarding a patient's right to privacy, we have had to make some changes in the way we distribute lab results. You may pick up you own results. We are not allowed to give you your spouse's or family member's results. Results not picked up at the health fair will be mailed directly to you. PLEASE DO NOT CALL ABOUT REPORTS UNTIL AFTER OCTOBER 20, 2010


Westlake Primary Care - 384-4764
Edmonton Primary Care (270) 432-5782
WESTLAKE REGIONAL HOSPITAL 384-4753
Westlake Primary Care of Russell County (270) 858-3636 787-1460


Quick Clicks to Sunday with CM for September 26, 2010. Your favorite Sunday with CM features:
---
Be an ORGAN DONOR: Register Online Now: Do it as a personal favor for Mary Keltner See her story
To participate in the program, visit the KY Trust for Life Website at
Donate Life Kentucky
Or, Visit you Local Circuit Court Clerk's office.See also:
Organ Donation Registry The need to join is right in Adair Co KY
About:
An Organ Donor saved the life of beloved uncle
(ADV) Easy shopping at Walmart from your home:Use Walmart Site to Store. Order items from the comfort of your home.Live, Local Right Now Mesonet Weather:
Mesonet Stations are located at these locations in the CM 7-county area:
Adair
-
Casey
-
Cumberland
-
Metcalfe
-
Taylor
Mesonet stations are not located in either Green or Russell Counties. For other Mesonet stations throughout Kentucky, Click on
Kentucky Mesonet Live Data
then select the station you want. The Kentucky Mesonet is The Commonwealth's Official Source for Weather and Climate Data.
(ADV) Adair Farmer's Market Open NEXT: Tuesday, September 28, 2010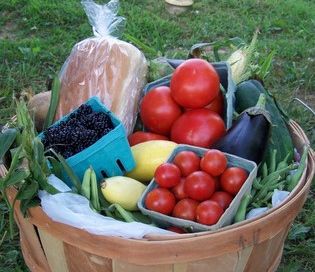 The Adair County Farmer's Market is open for the season every Tuesday and Friday, 6am-10amCT, at the Adair County Extension Service parking lot at 409 Fairground Street in Columbia, KY.
All produce sold at the market is locally produced by Adair County Farmers.<
For more information about the Farmer's Market contact the Adair County Extension Office at (270) 384-2317.
-Nick Roy
Sports Calendar
This story was posted on 2010-10-01 06:17:03
Printable:
this page is now automatically formatted for printing.
Have comments or corrections for this story?
Use our
contact form
and let us know.