Today, Tues., Sept. 2, 2008: City Council meets this evening
EVENTS:
Spotlighting, in brief, today's events for Day 246 of 2008 (Leap Year - 120 days remaining).
Today: ACPL Bookmobile will not run. Off road for maintenance
9:00amCT: Tuesday Ladies Day at Pinewood Country Club
This Afternoon: ACHS Girls Golf at Green Co., Green Co. C.C.
5:00pmCT: Tuesday Scrambles at Pinewood
6:00pmCT: Columbia City Council meeting
6:30-9:00amCT: Blood draw for WRH Health Fair, First Letter of Last Name N-O-P. Full Schedule
7:00pm CT: Jaycees, regular meeting, at , of the Columbia-Adair County Jaycees
Reminder: Send mail from home to Adair Countians who are deployed to war zones in Iraq and Afghanistan. How to mail to servicemen and list of addresses
For events in detail and to scan future events into 2009, Click here
This date in history:
Click Here
to access facts from
Wikipedia, the Free Encyclopedia
about this day in history.
Countdown to Second Sunday
: It's only 40 days to Sunday, October 12, 2008, when Adair Countians make a bold move for a healthier, wealthier, happier community. Tentative location: The new Columbia Western Bypass by Adair Elementary School. A huge turn out is expected. For further information, contact Kelli Bonifer at the UK Extension Service.
Countdown to November 4, 2008 General Election
62 days remaining.
Ballot position, local candidates
Register to vote in the office of Adair County Court Clerk Sheila Blair Mon.-Friday, 8:00am-4:00pmCT.
Presidential Polls
Court:
Tuesday
, September 2, 2008. No (0) Cases in Adair Circuit Court (Judge James Weddle). No (0) cases in District Court (Judge Michael Loy).
Click Here
to check Adair Court schedule at the Kentucky Court of Justice Website. To visit Adair Circuit Clerk site,
Click Here
Advertising
The 2008 Westlake Regional Hospital
HEALTH FAIR
Saturday, September 13, 2008! Events all day!


Westlake Primary Care - (270) 384-4764
Edmonton Primary Cre - (270) 432-5782
WESTLAKE REGIONAL HOSPITAL, (270) 4753
Westlake Primary Care of Russell County (270) 858-3636

Blood draw today:
6:30-9:00amCT: Tues., Sept. 2, 2008, First Letter of LastName N-O-P
---
Real Estate Auction Calendar:There are currently many once in a iife time opportunities in Adair County Real Estate.
For listings and links,
Click Here
Thursday, September 11, 2008. 12:30pmCT.
Absolute Auction, : 300 Bomar Heights, Columbia, KY. 15,500 sq. ft. Sprinklered former Medical Office/Hospital.
3.57 Acres. Remax 100 Auction Team/Hansford Auction Co.
Click Here for current auction and upcoming auctions
(ADV): To see What's Cooking in Adair County, KY, today,
Click Here
BETTY'S OK COUNTRY COOKING KY 55 North/Campbellsville Road across from Trinity United Methodist Church, Columbia, KY. Phone (270) 384-5664. Plenty of parking. Table seating for parties from 2 to ten. Sit down service or serve yourself at the big buffet.
HOURS: Open six days a week, Monday through Saturday, from 5:00amCT to 9:00pmCT. Closed Sundays.
ON THE BUFFET TODAY, Tuesday, September 2, 2008: Meats: Catfish.Chopped Steak with Grilled Onions. Salmon Patties. Smoked Sausage with Sauerkraut. VegetablesMashed Potatoes. Green Beans. Fried Potatoes. Applesticks. Macaroni/Cheese. Baby Carrots. Baked Beans. PintosOn the buffet cold bar: Pea Salad. Plus usuals Coleslaw. Peaches. Pears. Cottage Cheese. Pepper relish. Sweet onion. Buffet includes Cornbread. Rolls. Buffet consists of one Meat and Vegetables, one trip only, $7.25; Extra Meat, $1.25. Child's buffet for children under 6, $4.95. Three Vegetables, $3.95; Four Vegetables, $4.95, Vegetable Plate, $5.95.
IN THE PIE CASE: Today's cobbler: Strawberry Cobbler. Special Cake: Homemade Apple Cake. Every day: Sugar free cheese cake. Peanut butter pie. Plus all our usual pies, starting with Betty's Famous Sand. and Chocolate. Butterscotch. Cocanut. Pecan. Apple. Caramel Apple. Banana Split. Lemon.
FULL, COOKED TO ORDER BREAKFASTS served anytime. NEW! Everyday until 10:30! Chocolate Gravy and Biscuits! We have Grits. Try our Western Omelets. Country Ham. Pancakes. Sausage links. Gravy (White seasoned with sausage and Chocolate Gravy served until 10:30amCT.


BOB'S COUNTRY KITCHEN & GENERAL STORE,
5097 Liberty Road, Vester, KY. Breakfast anytime. Lunches packed. Pies a specialty.
"What are you having to eat today"
Hotbar Special: Tuesday, September 2, 2008,: Seasoned, Crunchy, Backed Chicken. Mashed potatoes. Green Beans seasoned with Country Ham. (As as soup, $1.79, with crackers or cornbread, sweet white onion, just $1.79). Sliced fresh from the patch Adair County tomatoes. Cucumber and onion salad. Bob's own Crunchy, Crusty, Black Skilllet Style Ovenbaked Cornbread.
SANDWICHES: At Bob's, we'll cut a country store sandwich and fix it up the way you like it. Made to order eat in sandwiches with the widest variety of cold-cuts in Adair County. Eat here. Or let us fix your lunch to go.
The PIE SITUATION: Cocanut Pie. Butterscotch Pie. Chocolate Pie. Also: Cherry Delight. And: today, a cake surprise.
SPECIALS From the Drink Case: Aqua Fina bottled water, 99 cents! Also, 4/32 oz. Powerade Drinks, just $5.00. Dasani, 20 oz. just 99 cents.


BUFFALO HILLS RANCH,906 Greensburg ST in the Curves Building, Columbia, KY. Phone (270) 385-9092. Dr. Smoothie Smoothies, Christian Gifts, Tanning Beds. Buffalo Meat--America's Original Health Food. Open 10am-7pm Mon-Tue & Thurs.-Fri. 10am-6pm Wednesdays. Closed Saturdays and Sundays. Jim and Carol Leib, Owners. We accept Visa, MC, and Discover Credit Cards. NEW: Let us cater your next event. Book Buffalo Hills Cookhouse with Mobile Dining Room for your next Celebration, Auction, Special Event.


The DAIRY DIP,
Jamestown ST, Columbia, KY. Phone (270) 384-4644.
Special Tuesday, September 2, 2008:
TBA.Look for posters in windows. Great deals, everyday. Stop in and see the colorful new picnic table umbrellas we ve added. There's no better place to enjoy the perfect weather we're having than to have a picnic lunch in the wonderful shady at Dairy Dip, and come down for a picnic under the stars tonight. - Patricia Willis.


DONUT EXPRESS
Start the day right. Take a box of Donuts from Donut Express on sales calls, to work, and home to be a hero everywhere you go today!
Donut Express. 605 Fairgrounds ST, Columbia, KY. Nick Wortham, proprietor. Start the week off right. Make Today special with Fresh Hot Donuts from Donut Express. Take a $5.00 dozen box to work, on sales calls, or home to make the family happy. They're good! They hot and they're ready, today. Made right here in Columbia! And they're making Columbia famous!



RERUN'S HOLMES BEND GENERAL STORE. 3399 Holmes Bend Road, Columbia, KY.
Phone (270) 384-7253: For carryouts and expedited orders. Let us prepare your Green River Lake picnic! Hours: Mon-Sat: 4:00am to 9:00pmCT.
Breakfast: FOR THAT GREEN RIVER LAKE COUNTRY HAM BREAKFAST, this is the place. Best Country Ham on Green River Lake Breakfast Any time of day. Cooked to order. Eggs, bacon, ham, tenderloin, and the best sausage you ever ate. Country biscuits. Redeye or sawmill gravy. Generous portions. Kinfolks prices. We treat everybody like favorite cousins! Get Famous Nick's Made-in-Columbia Donuts right here.
DAILY SPECIAL:Tuesday, Sepember 2, 2008:
Beat the heat!.A cool deal for a hot day: Your choice of Chicken Salad, Tuna Salad, Pimento Cheese, or Cold Cut Sandwich, + Chips + 16 oz. Fountain Drink, All for $4.00 RERUN's: For The BEST FOOD on GREEN RIVER LAKE.
Great Gas Stop Save money. Fill up your car and your boat tanks at Rerun's. PUTT-PUTT MINIATURE GOLF COURSE OPEN!Rerun's 18 hole Putt-Putt Miniature Golf Course is open. Just $2.00 per game per person. Check in at Rerun's Holmes Bend General Store to pick up clubs to play next door. Special deals for Church and School Groups, Birthdays and other Celebrations.


What's Cooking for Adair County School District Kids
Tuesday, September 2, 2008: BREAKFAST: Sausage and Biscuit. Juice/Fruit. Choice of Low Fat Millk. Cereal choices and toast offered daily at breakfast. LUNCH: Cheeseburger on Bun or Chili Cheese Coney. French Fries. Baked Beans. Applesticks.. Choice of Low Fat Milk. Salads available daily. Fruit and/or juice offered daily with lunch.
Special advertising today:
Click Here
to do your shopping from home, with
Wal-Mart Site-to-Store
(SM).
Special Sales in New CM Clothing Classification:
Click Here
for CM classifieds, "Clothing"
Ja Ci's Boutique has new shipment of Plus Size Clothing
Mitzi's is reducing inventory as quickly as possible before closing in September because of health reasons
Classified Advertising
Quick access: ColumbiaMagazine.com Classified Categories:
|
Animals
|
Announcements
|
Automotive
|
Benefitsand Fundraisers
|
Bicycles| Boats| BusinessListings | Cardsof Thanks | Employment:Help Wanted, Jobs Wanted | Entertainment| FarmEquipment, Lawn & Garden | Food:What's Cooking in Adair County | ForSale | Freecycling| Healthcare| Miscellaneous| MobileHomes | Motorcycles,Motorcycles, & ATVs | PublicNotices | RealEstate and Auctions | Rentals| Reunions| Revivalsand Church Announcements | Services| Venuesfor Meetings | Wantto Buy | YardSales |

Submit Your Classified Ad:
To place your ad now contact form. to place your ad.

Entertainment
Columbian Theatre:
The Mummy: The Tomb of the Dragon Emperor It is rated PG-13 and will play nightly at 7:00pmCT and Sunday at 2:00pm only. -NATHAN COMPTON, Mgr., The Columbian Theatre

SPORTS CALENDARS
NEW! Click Read More to go links to SPORTS CALENDARS, TODAY'S BEST PHOTOS, and MUCH MORE
Scroll down for Today's Best Pictures. More added throughout the day



Click here to read yesterday's "Today" feature.
A note: You can keep going back, a day at a time, each time an older "Yesterday's" page is accessed.

"Chapter II. Planning" Rivermen of the Cumberland online today.INDEX to Rivermen of the Cumberland By Chris Bennett
The story will be carried in 8 mini chapters, they will go online as they are written. Just click on each chapter title, underlined and linked, as it is posted, to read it. The index will be carried in the "Today" section of ColumbiaMagazine for easy access.
Chapter I. "Why would any one take a river trip" tells my history on the river, and what inspired me to go on my trip.
Chapter II. "Planning" Planning the trip, and finding some one that would go with me.
Chapter III. "Day one" Creelsboro to Burkesville, 25 miles traveled in 5 hours
Chapter IV. "Day Two" Burkesville to Cordell Hull 89 miles traveled in 11 hours
Chapter V. " "Day Three" Cordell Hull to Nashville 157 miles traveled in 10 hrs
Chapter VI. "Day Four" Nashville to Lake Barkley 143 miles traveled in 11 hrs
Chapter VII. "Day Five" Lake Barkley to the Ohio, then on to the Mississippi, back to Paducah, Up the Tennessee River to KY Lake. 150+ miles traveled.
Chapter VII.I "Reflecting on our trip"


Academic calendarsAdair County Schools "Learning for a Lifetime"

For 2008-2009 School Calendar, Click Here.

School website was updated August 25, 2008Click Here Daily for the comprehensive Adair County Schools website. In a community with some of the world's best websites, this frequently updated one is a standout. Find your child's school for important contacts, athletics, clubs/organizations, faculty staff listings, SBDM Council meetings, events, and links.

ACHS BAND

2007 Adair County Band website. Doyle Lloyd, webmaster.

Click here for Adair County Band Audio Tapes. Great gifts!

Columbia Rotary Club's Adair County "Walk Around the World"
See Standards in CM Classifieds Healthcare
24,901.5 miles is goal.
307 Miles Walked, reported through July 30, 2008
24,594.5 Miles to Go!
Send in your miles totals to : rotarywalk@gmail.Com
to be included in the next report, shortly after August 21, 2008

Click here for Adair County Band Audio Tapes. Great gifts!

Western Bypass from 24,000 feet, 13 minutes from Lexington, KY, photo by Doug Campbell, Columbia Pilot posted on CM on June 28, 2007.

Perry Parrish Aerial Photographs: CWB, others, August 9, 2008 Photos of Holladay Place, Majestic Yachts, The Long Bridge, the Adair Justice Center, Adair County Water Treatment Plant, ACES and ACHS, Green River Lake, and Adair School Property will be in the series.

Wolf Creek Dam
To access the Army Corps of Engineers Wolf Creek Dam website online, Click Here

Wolf Creek Dam Weekly Progress: Latest, Dated August 22, 2008 Water level, down, at 680.73 feet Click here for August 22, 2008 (latest) Wolf Creek Dam update.

2008 Kentucky Primary & Election Calendar & Candidates
See candidate filings for City Council, Constable, School Board, and Soil Conservation District races. Click Here

Click Here for 2008 Election Calendars at the Secretary of State's website.
To see the results by precincts or absentee voting, click on links below:
Absentee totals. White Oak.Eunice-Pellyton. Little Cake. East Columbia.Ozark.S. Columbia-Ozark. Glens Fork-Melson Ridge. Gradyville-Nell. Sparksville-Breeding. Milltown. West Columbia. Cane Valley-Holmes. Knifley-Roley. North Columbia. Hurt.

For complete filings at Kentucky Secretary of State Trey Grayson's office for President, US Senator US Representative, State Representative, Justice of the Supreme Court, Judge of the Court of Appeals, and District Judgeships, Click Here.

Voter Registration is open in the office of Adair County Court Clerk Sheila Blair. Office hours 8:00am-4:00pmCT Monday, Friday. Closed Saturday and Sunday. Qualified individuals who are not registered to vote may do so starting Wednesday, May 28, 2008. "Registration books are closed from April 22, through May 27, 2008. (fourth Tuesday preceding through first Monday following primary)(This time period may vary depending on whether the last day to register to vote falls on a state or federal holiday. If the last day to register to vote falls on a state or federal holiday, the period runs until the end of the next day which is not a Saturday or Sunday nor a state or federal holiday.)," according to Secretary of State Trey Grayson's website and word from the office of Adair County Court Clerk Sheila Blair.

Please remember to submit events, celebrations now for January 2008 and all of 2008 ColumbiaMagazine.com calendar of Events and Celebrations and to send new and updated entries for the Directory of Churches

Driver's Seat Links:

To sponsor news and features on ColumbiaMagazine, please use our
contact form
.
Larry Smith Photo: New Taylor Co. Judicial Center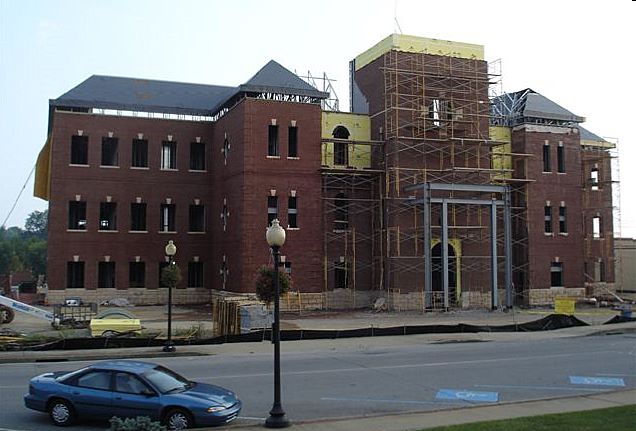 2008-09-02 - Campbellsville, KY - Photo By Larry Smith.
Larry Smith, news anchor for WHVE FM 92.7 the WAVE, snapped this construction progress picture of the new Taylor County Judicial Center and sends it with a note, "Under construction, this is huge!" A Today's Picture Album photo for Tuesday, September 2, 2008.
Read More... | Comments? | Click here to share, print, or bookmark this photo.


Scenic Adair Co., KY: Off Holmes Bend Road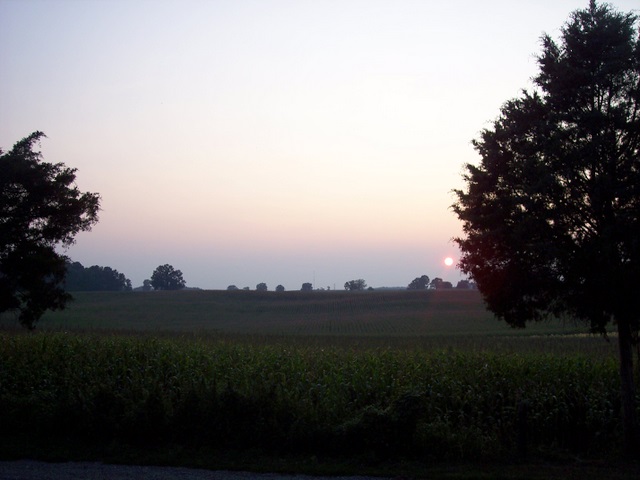 2008-09-02 - Columbia, KY - Photo By Bill Runner.
Paul Pelly sent this photo with the note, "Taken by Bill Runner on the property belonging to Wayne Pelly off of Holmes Bend Road." A Today's Picture Album photo for Tuesday, September 2, 2008.
Read More... | Comments? | Click here to share, print, or bookmark this photo.


Fishing, Lake Cumberland: Wm. Feese catches 43-inch striper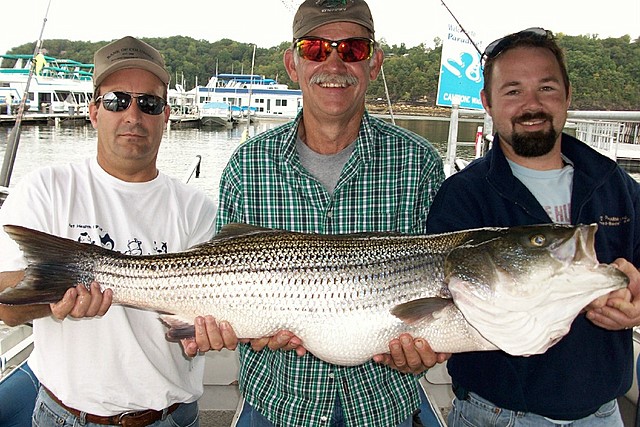 2008-09-02 - Lake Cumberland - Photo Feese Family Fish photo.
WILLIAM FEESE caught this 43-inch, 30 pound striper in Lake Cumberland on August 27, 2008. From left are Wendell Froedge, William Feese and Jacob Feese. Their guide was Colonel Reese. A Today's Picture Album photo for Tuesday, September 2, 2008.
Read More... | Comments? | Click here to share, print, or bookmark this photo.


Skylar, a shorthair male kitten, available for adoption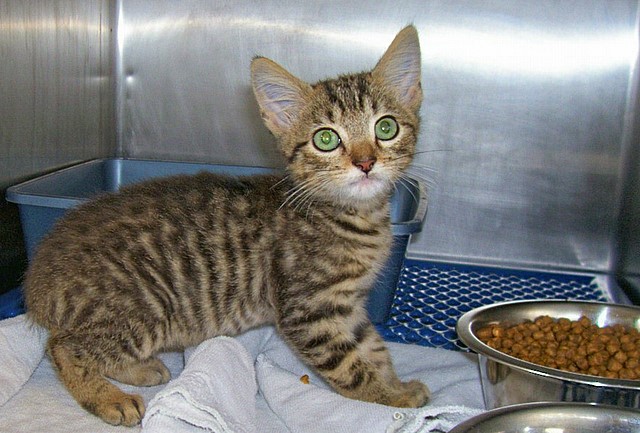 2008-09-02 - Green River Animal Shelter, Columbia, KY - Photo By Heather Evans.
No longer available. 2008-10-21Skylar, is a 10 week old brown tabby shorthair kitten. He is very affectionate. He's available for adoption now at Green River Animal Shelter. A Puppy, Dog, Kitten or Cat Just for You Is Waiting at Green River Animal Shelter, 455 Jim Blair Road (take Appleby Drive off KY 55 at Columbia Church of Nazarene; Jim Blair Road goes around Adair Youth Development Center), Columbia, KY. Phone 270-385-9655. A Today's Picture Album photo for Tuesday, September 2, 2008
ANIMALS
Read More... | Comments? | Click here to share, print, or bookmark this photo.