Today, April 2, 2008: Children's Story Hour at library
Road Eighty Bridge closed for 185 Days today, April 2, 2008
Scroll to end of Today! for several featured photos, including birthday photos for today. More may be added.EVENTS:
Spotlighting, in brief, today's events for Day 93 of 2008 (Leap Year - 273- days remaining).
Today: See Directory of Churches for Wednesday evening worship service schedules.
10:00amCT: Children's Story Hour with Aleina Milligan, at ACPL
6:00-9:00pmCT: Free tax service at Lindsey Wilson College
6:15pmCT: Praise & Worship, Bible Teaching series at Great Oaks Church, Kellyville
7:00pmCT: Revival at Bear Wallow United Methodist Church
ADVERTISING
(ADV): Food, What's Cooking in Adair Co. Wednesday, April 2, 2008
BOB'S COUNTY KITCHEN & GENERAL STORE,
5097 Liberty Rd, Columbia, KY, Vester Community, Phone (270) 384-6774.
MENU
Hours:
5:00am-8:00pm, Mon. through Sat. Sunday, 8:00am-5pmCT.
Today's Hot Bar:
Meatloaf. Sides: Mashed Potatoes, Green Beans, Pinto Beans, Coleslaw, and Macaroni Salad. Jewell is deciding on which cornbread to make. Breakfast (with
Pie!
) anytime. 40cent bottomless cup of coffee! We've been baking overtime: Best assortment of desserts ever!
---
CATTY SHACK
, Delicious catfish, seafood + more. 855 Campbellsville Road, Columbia. Call 384-8989 for carryouts or to expedite your order.
Open:
Wed.,Th, Fri, & Sat.! Now open 4 days a week! 10:00am to 8:00pmCT.
MENU
.
Special today:
Wednesday (2008-04-02): Grilled Chicken Sandwich, Any Side, Drink,
All for just $5.99
From 10:00am to 2:00pm only. We'll have Super $5.99 special all this week!
---
DAIRY DIP of COLUMBIA,
Picnic at the Dip today! 114 Jamestown St., Columbia, KY. Open 10am-7pmCT every day of the week. Call: (270) 384-4644 for carryouts or to expedite your order
MENU
.
Wednesday Special The Dip's own Super Duper Nachos.Super Duper Nachos the way you like them, Just $3.50 plus tax, today And our new debit card machine is in. We take take Visa, Mastercard, and Discover cards!
---
DONUT EXPRESS
- 605 Fairground Street, Columbia, KY 42728. Nick Warmouth, owner, operator. Open after midnight every night until 2:00pmCT. Call: (270) 384-8903 for carryouts or to expedite your order.
TODAY:
Donuts are ready now. Be the Hero in your Workplace Today! Take a dozen or two to work today! ($4.98/dozen=41.5 cents each, by the dozen!)
MENU
.
Delicious Fresh Baked, Donuts
Baked every day right here in Columbia. Glazed, cake, jelly-filled, plain, fancy and more! People drive from miles around to get them. Fresh brewed hot coffee, hot breakfast biscuit sandwiches..
---
OL' JOE'S B&B QUE
taking orders for Beef Brisket We've let a few people try it, and they loved it! Ol' Joes B&B QUE, N. Highway 55 in Columbia, KY, is taking special orders for whole barbecued beef brisket.
Orders must be received by Wednesday, April 2, 2008
. Phone 270-384-2360. The orders may be picked up this weekend April 4 & 5 during regular hours. Open 10:30am to ? (7:30-8.00pm CT) Open the 1st & 3rd Fridays & Saturdays of every month.
MENU
for other items.
---
Advertising: Auction calendar
Advertising: Entertainment, sales, services
>A+ Computers, 406 Jamestown ST, Columbia, KY, Tom Wilson, owner. Repair, Buy, Sell computers. "The Most Helpful Guys in Town."
CANE VALLEY STORAGE. 24 units, each 12 x 30 ft., overhead doors, lighting. $45 per month. Call (270) 378-1282.
Certa-CARE Pharmacy offers guaranteed lowest prescription prices in Adair County. Guaranteed.
Columbia Music Center is open 12-6pmCT M-T-Th-Fri, and 9am-2pmCT on Saturdays. 503 Greensburg ST, Columbia, KY.
Columbian Theatre: Fool's Gold, nightly at 6:00pmCT and Sunday at 2:00pmCT only PG-13. ALSO:Juno nightly at 8:15pmCT and Sunday at 4:15pmCT PG-13.
Diversified Marketing offers Programs and Packages start at $19.95 for a 40-channel package. Diversified Marketing Company. 703 Campbellsville Street, Suite B, Columbia, KY 42728. (270)384-9010 or 1-(800) 599-9010, Fax (270) 384-1158. Open 8-5 Monday-Friday
Ja Ci's Boutique is open today with discount prices on women's clothes, jewelry, and handbags. Julie Campbell, owner. Ja Ci's Boutique, 703 Campbellsville RD, Suite A, Columbia, KY 42728. Phone: (270) 384-1177.
Mitzi's Special Sale! Discounts NOW up to 75% on Winter Items. Great deals on Shoes. Buy one pair at regular price, get second for 1/2 price. Spring fashions are here. Mitzis, 303 Greensburg Street, next to library, Columbia, KY 42728. Phone (270) 634-054. hours are Wed., Thurs., and Fri. 9:00am - 4:00pmCT and Sat. from 9:00am to 1:00pmCT. Look for the bright pink door.
Click Here to do your shopping in the comfort of your home, with Wal-Mart Site-to-Store (SM). Order online, pick up at Columbia Wal-Mart or other Wal-Mart store.
To advertise here, or to alert CM to Breaking News,
use any of the over 11,000 Contact/Submit Buttons on this site or call (270) 250-2730.Much more, inside (or below), including "Driver's Seat" quick links to sites of local interest, including Adair County Public Library, local, state and national news sources. Today's outstanding, stand alone (no story, just great photos, follow this feature).
Click here to read yesterday's "Today" feature.
Court:
Wednesday, April 2, 2008. Two (2) cases in Adair Circuit Court (Judge James Weddle). Thirty-six (36) cases scheduled in Adair District Court (Judge Michael Loy).
Click Here
to check Adair Court schedule at the Kentucky Court of Justice Website. To visit Adair Circuit Clerk site,
Click Here
Adair County Schools "Learning for a Lifetime"
See Adair County School website for school schedule.
School website was updated March 31, 2008, with new Adair County School District News items. News items are frequently added.
Click Here Daily
for the comprehensive Adair County Schools website. In a community with some of the world's best websites, this frequently updated one is a standout. Find your child's school for important contacts, athletics, clubs/organizations, faculty staff listings, SBDM Council meetings, events, and links.
Adair County Schools Menu
:
Mar. 24 , 2007 through April 18, 2008
ACHS BAND
2007 Adair County Band website
. Doyle Lloyd, webmaster. With 2007 KMEA AAA State Champions posts. A must see site; includes video, audio, old photos and pictures
Click here for Adair County Band Audio Tapes. Great gifts!


AT THE COLUMBIAN THEATER:
Now Showing
Fool's Gold, nightly at 6:00pmCT and Sunday at 2:00pmCT only PG-13.
Juno nightly at 8:15pmCT and Sunday at 4:15pmCT PG-13.
Starting Friday, April 4, 2008 at the Columbian Theatre
College Road Trip. Nightly at 6:00pmCT and Sunday at 2:00pmCT only. Rated G
10,000 BC Nightly at 8:00pm and Sunday at 4:00pmCT only. Rated PG13.
Click here to read more about the historic Columbian Theatre.

This date in history:

Click Here to access facts from Wikipedia, the Free Encyclopedia including lists of events, births, deaths, holidays, and other facts about this day in history.

Roads, Travel

Adair County Road Department maintenance report,Work schedule, Thursday, March 27, 2008. The Adair County Road Department will be working in several areas of the county today: District 1, hauling gravel in on Fairview Road and Peg Brockman; working on Fairview and Little Cake Road on roadside cleanup; District 3, installing tiles in on the Zion Road; District 4, installing tiles on the Rollin Kemp Road; District 5. hauling gravel on Detweiler Road; District 6, working on the picnic shelters at the Mt. Carmel Boat Ramp. Please drive carefully in these areas and be prepared for sudden stops. -LISA LEE, Adair County CJE Administrative Assistant. Announcement March 21, 2008: Adair County April 12, 2008 Clean-up Day: Watch here for next report from -LISA LEE, Office of Adair County Judge Executive Ann Melton. 270-384-4703. Adair County Judge Executive Ann Melton.

High detail Adair Co. Map: Click Here

Kentucky Highway Department, Adair County
Road Eighty Bridge closed for 185 Days today, April 2, 2008 Click Here First Story: Closed since Monday, October 1, 2007 , KY 80 Columbia-Russell Springs east of Columbia.

Western Bypass from 24,000 feet, 13 minutes from Lexington, KY, photo by Doug Campbell, Columbia Pilot posted on CM on June 28, 2007.

Wolf Creek Dam
To access the Army Corps of Engineers Wolf Creek Dam website online, Click Here

Weekly Update: Latest, Dated March 26, 2008 with photo of Drilling on work platform. Water level, at 689.95 feet Click here for March 26, 2008 (latest) Wolf Creek Dam update.

2008 Kentucky Primary & Election Calendar & Candidates
Click Here for 2008 Election Calendars at the Secretary of State's website.

For complete filings at Kentucky Secretary of State Trey Grayson's office for President, US Senator US Representative, State Representative, Justice of the Supreme Court, Judge of the Court of Appeals, and District Judgeships, Click Here.

Please remember to submit events, celebrations now for January 2008 and all of 2008 ColumbiaMagazine.com calendar of Events and Celebrations and to send new and updated entries for the Directory of Churches

Driver's Seat Links:


Salon.com breaking news, opinion, entertainment. Online magazine with news you'll see up to four weeks before you see it anywhere else.
Stock market, financial news Link to Market Watch from DowJones
Traveler's Guide to Southern Kentucky. A collection of great ColumbiaMagazine.com Scenic Adair County photos from 10,500 CM articles ago.
TV Listings Link to Tv Guide


This story was posted on 2008-04-02 05:18:54


Printable:

this page is now automatically formatted for printing.

Have comments or corrections for this story?

Use our

contact form

and let us know.



To sponsor news and features on ColumbiaMagazine, please use our
contact form
.
Bro. John Coomer is 96, Wednesday, April 2, 2008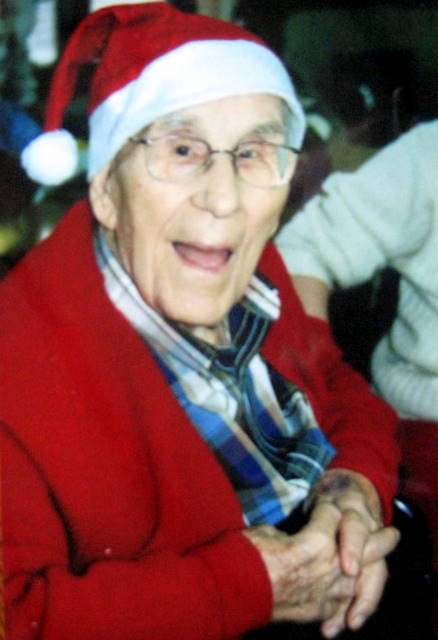 2008-04-01 - Summit Manor Health & Rehab, Columbia, KY - Photo By Dr. Phil Aaron.
---
Happy 96th birthday to Bro. John Coomer
From all your Trinity family and friendsWe love you!
---
Clicking Read More accesses the "Today, Wednesday, April 2, 2008" feature.
Read More... | Comments? | Click here to share, print, or bookmark this photo.


Larry Smith Photo from the Past:: Merchants Hotel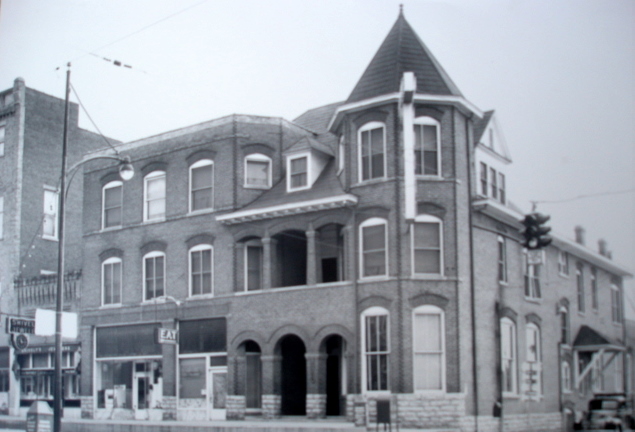 2008-04-02 - Columbia Ave. and Main Street, Campbellsville, KY - Photo From the collection of Larry Smith.
---
CAMPBELLSVILLE LANDMARKS: Larry Smith, News anchor at The 92.7 The WAVE sent this photo, and writes, "Here's a photo of the old Merchants Hotel in downtown Campbellsville. The city, under the leadership of Mayor Brenda Allen, is trying to get a grant to restore the old hotel which still stands today at the corner of Columbia Ave and Main Street. next door to the hotel is the former Shively Jewelers," The tall building just to the left of Shively's Jewelry is now owned by Bob and Teresa Bethel of Columbia. They are planning a complete renovation and adaptive re-use for that landmark.
---
Clicking Read More accesses the "Today, Wednesday, April 2, 2008" feature.
Read More... | Comments? | Click here to share, print, or bookmark this photo.


Albert Einstein Memorial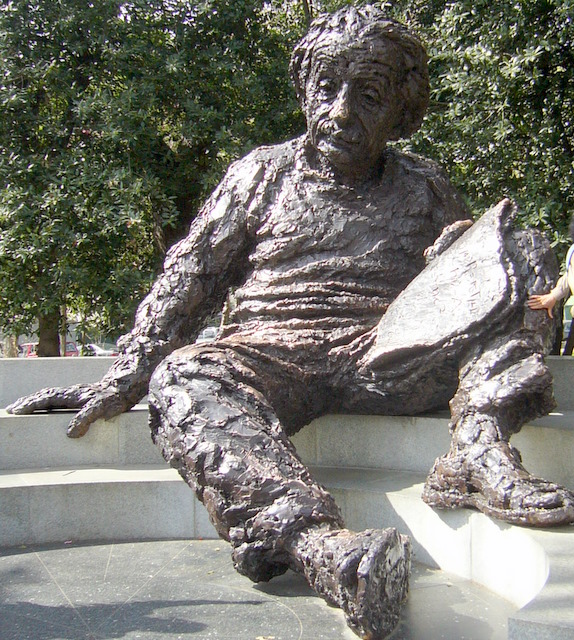 2008-04-02 - Washington, DC - Photo By Lani Rosenstock.
---
MARY KELTNER, Gradyville, KY, visited the Albert Einstein Memorial near the National Academy of Sciences in Washington, DC. last week, and sent this photograph her daughter, Lani Rosenstock, took of the bronze sculpture by Robert Berks, which depicts the great scientist studying manuscripts. She recommends a visit to see the sculpture, especially for kids.
---
Clicking Read More accesses the "Today, Wednesday, April 2, 2008" feature.
Read More... | Comments? | Click here to share, print, or bookmark this photo.


Adair County Enhanced 9-1-1 Dispatch Center, with columns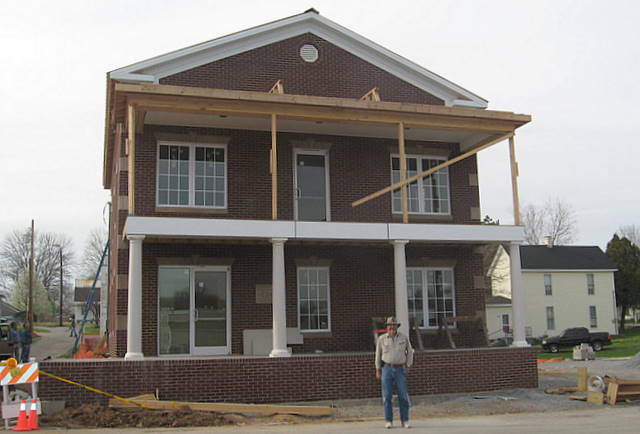 2008-04-02 - North High Street, Columbia, KY - Photo By Ed Waggener.
---
TONY MARTENS, owner of T's Carpentry, 161 Short Lane, Columbia, KY, takes a break to pose in front of the four columns added to the 9-1-1 Dispatch Center, now nearing completion. Matching columns, with functional/decorative railings on the second floor, will be installed tomorrow or in the next few days, by Mike's Vinyl Siding, which is also doing the trim work, including the metal soffits and fascia around the eaves. Mi-Di Construction co-owners of the firm with the general contract for the building, said they hope to turn the keys over to Adair County Judge Executive Ann Melton by the first of May, allowing the county two months to get equipment moved in an installed by the June 30, 2008 grant provision deadline.
---
Clicking Read More accesses the "Today, Wednesday, April 2, 2008" feature.
Read More... | Comments? | Click here to share, print, or bookmark this photo.